"When you understand, support, collaborate, love, feel, accept every human being for being different". 
We Speak Gay community is a community of companies sharing the values of diversity and inclusivity. They are open minded and welcoming to LGBTQ customers and guests.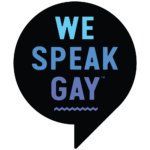 When using the We speak gay sticker in the window or as a logo on the web page the companies express the values of diversity and inclusivity visibly and help creating a safe atmosphere in which customers can feel valued and respected.  The Community is expanding all the time. We started the project during the Helsinki Pride 2018 in the beginning of July.Our goal is to have 100 partner companies by the end of 2018.The partner companies are listed and marked in the map below and presented in more detail here. 
Map of We Speak Gay Community
Below is the Google map of We speak gay partners. Click on the icon in the upper left corner to display the list of the companies. When clicking on the icon in the upper right corner you open the map in Google.
Diversity – what it means?
Diversity means understanding that each individual is unique, and recognizing our individual differences. 
It is also the exploration of these differences in a safe, positive, and nurturing environment. 
It is about understanding each other and moving beyond simple tolerance to embracing and celebrating the rich dimensions of diversity contained within each individual.
Diversity means more than just acknowledging and/or tolerating difference. Diversity is a set of conscious practices that involve:

Understanding and appreciating interdependence of humanity, cultures, and the natural environment.

Practicing mutual respect for qualities and experiences that are different from our own.

Understanding that diversity includes not only ways of being but also ways of knowing;

Recognizing that personal, cultural and institutionalized discrimination creates and sustains privileges for some while creating and sustaining disadvantages for others;

Building alliances across differences so that we can work together to eradicate all forms of discrimination.
Inclusivity – what it means?
Human beings possess a fundamental need for inclusion and belonging. 
Many organizations and societies are better about creating diversity, many have not yet figured out how to make the environment inclusive—that is, create an atmosphere in which all people feel valued and respected and have access to the same opportunities. 
This is the fundamental goal of We speak gay community, to create more environments with the atmosphere of inclusivity and respect for diversity.
If you want to be part of the We Speak Gay Community and want to know more about the content please fill in your contact information in the form below and read more here.