LGBTQ Tourism is a special segment of the global travel industry. The LGBTQ segment accounts for more than 10% of tourists worldwide and approximately 16% of total travel spending. That's more than $195 billion a year in spending according to the World Travel & Tourism Council.
You can talk about LGBTQ Tourism when
"Destinations or travel service providers seek to assure the LGBTQ consumer that when visiting their destination or purchasing their product or service that they will be welcome and respected.
Some products and services are designed specifically with LGBTQ travelers in mind, for example weddings and honeymoons for same-sex couples, or accomodations or tours exclusively designed for groups of gay men or lesbian women."
On the following fairs LGBTQ Tourism and LGBTQ friendly destinations and companies are promoted on a special LGBTQ travel area.
ITB Berlin 10-14 March 2021
As the Leading Travel Trade Show, ITB Berlin is the foremost business platform for global touristic offers. Since 2010 Gay & Lesbian Travel has been an established, successful segment of ITB Berlin. Characterized by openness, creativity and vibrant interaction, this is one of the most diverse areas of the trade show.
TB Berlin is hosting the LGBT+ Travel Pavilionincluding the LGBT+ Tourism Conference. The LGBT+ Media Brunch is home for all accredited media interested in LGBT+ tourism. Members of the media will be able to get together in an informal atmosphere with representatives of destinations and other tourism providers.
Read more about ITB Berlin and its program here
FITUR in Madrid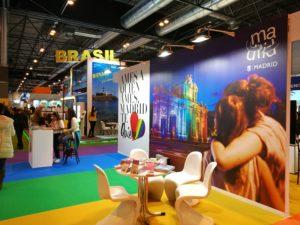 FITUR is the global meeting point for tourism professionals and the leading trade fair for inbound and outbound markets in Latin America. At its  staging, FITUR broke all previous participation records with 10,487 companies from 165 countries and regions, 142,642 trade visitors and 110,848 visitors from the general public.
FITUR Gay (LGBT+), after nine editions, has become a leading event in the field among the main international tourism fairs.
IGLTA Convention in Milan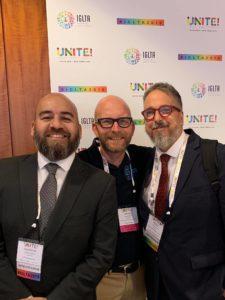 The IGLTA Annual Global Convention is the world's premier educational and networking event for LGBTQ+ tourism professionals. The 37th edition of the conference will connect gay, lesbian and gay friendly travel and tourism suppliers and buyers through its hosted buyer and scheduled appointment program, numerous educational workshops and networking receptions. In the picture with my dear friends from Argentina at the IGLTA Convention in New York 2019.
Let's make business with a twist
For more information please fill in the form below or contact me by sending message to hannu(at)wespeakgay.com or call +358 44 5151700.