Archipelago and coastline
Finland's coast boasts the world's largest archipelago. Old wooden towns, lighthouses, historical manors and stone churches, large national parks stretching over land and sea – this sums up coastal Finland in a nutshell.
Following open minded companies and events are welcoming to LGBTQ customers creating a safe atmosphere in which you can feel valued and respected. These companies are against racism and all kinds of discrimination, homophobia and transphobia. The members of the community are committed to inclusion and want to embrace diversity in Finland.
Original Sokos Hotel Kupittaa / Coast & Archipelago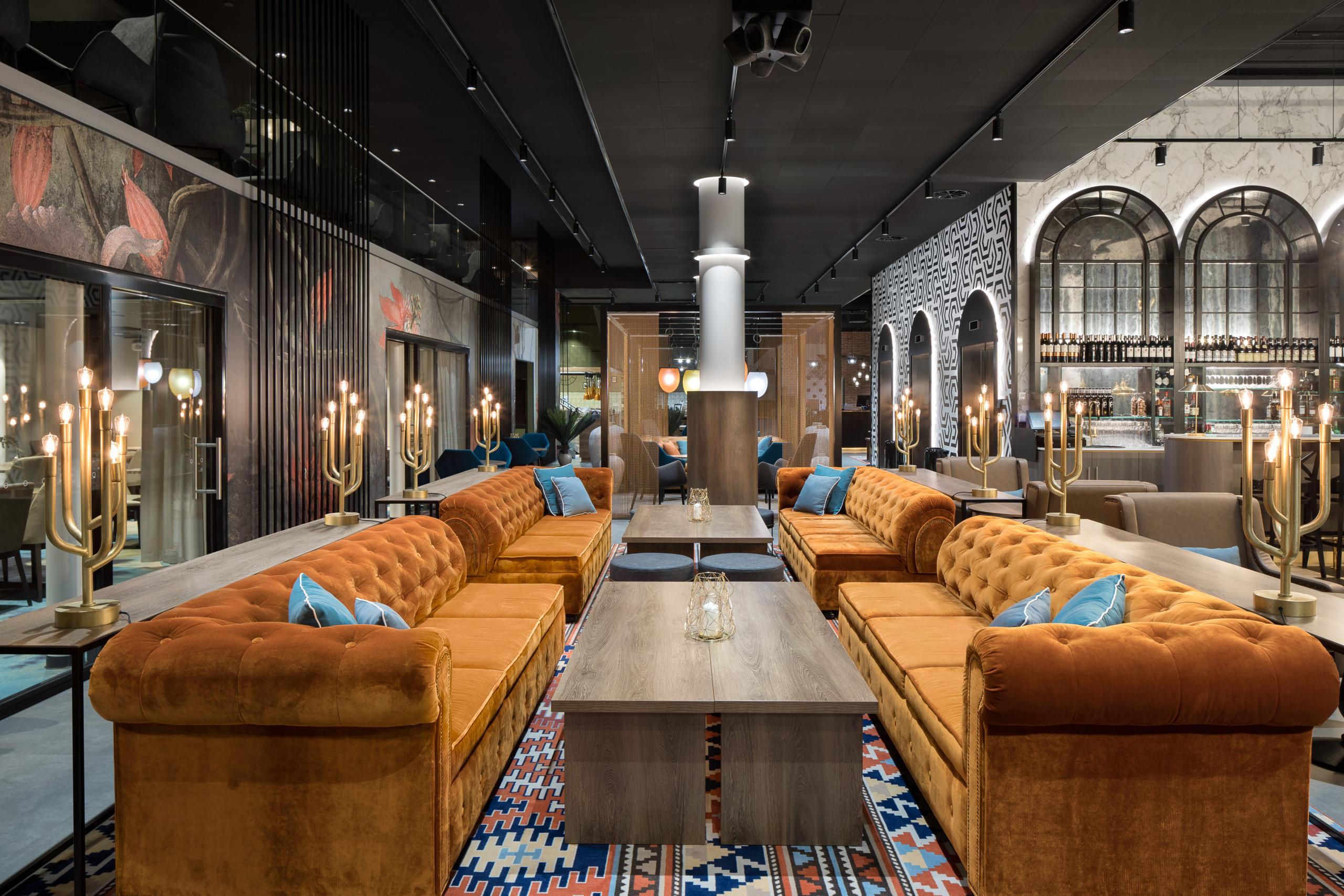 The modern and extraordinary Original Sokos Hotel Kupittaa has 196 rooms, a restaurant and a rooftop bar, a gym and two saunas. Hotel is the ideal location to eat, meet and spend time. It is the new and vibrant heart of Kupittaa, a fast growing area in Turku. There is a direct connection from the hotel to the train station or you can drive from the main streets in to our parking facility. Enjoy a hearty breakfast or lunch, pop in for a drink after work or spend a leisurely evening in the atmospheric Bistro Elli. Companies, universities, the largest city park in Finland, an adventure park and sports centers are all just a short distance away.
Original Sokos Hotel Wiklund / Coast & Archipelago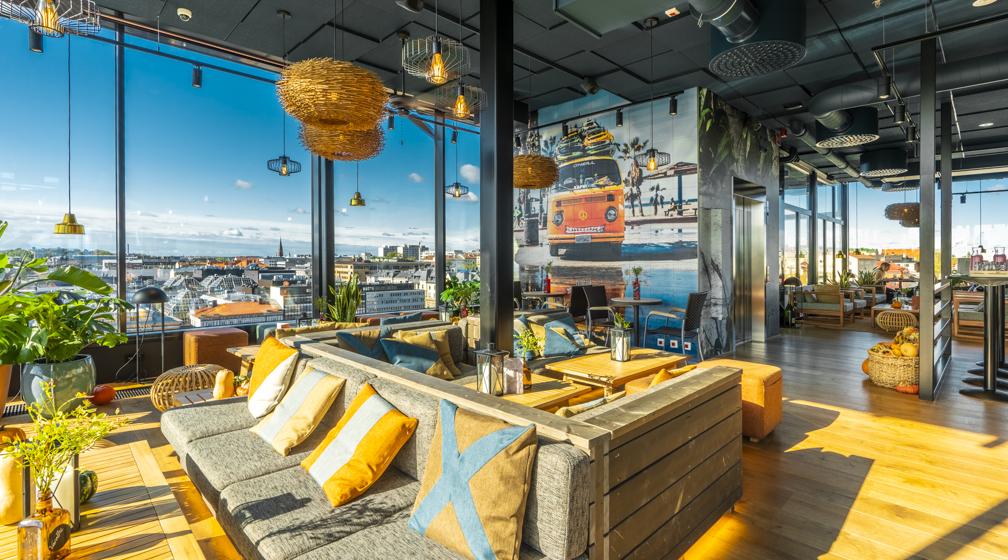 The relaxed choice for the independent traveler in a laid-back, urban hotel in Turku.
Looking for a spot of privacy in the heart of Turku, close to all activities on offer in the city? An oasis to return to after a day of work or a sensory adventure overload? Book a room at Original Sokos Hotel Wiklund! A completely renewed urban hotel. An ideal choice for solo travelers enjoying life, couples on staycation, groups of friends, as well as families with children. A variety of restaurants serving coffees and pastries on the ground floor, burgers and Italian flavors on the second, and on the roof top panoramic cocktails and beers.
Solo Sokos Hotel Turun Seurahuone / Coast & Archipelago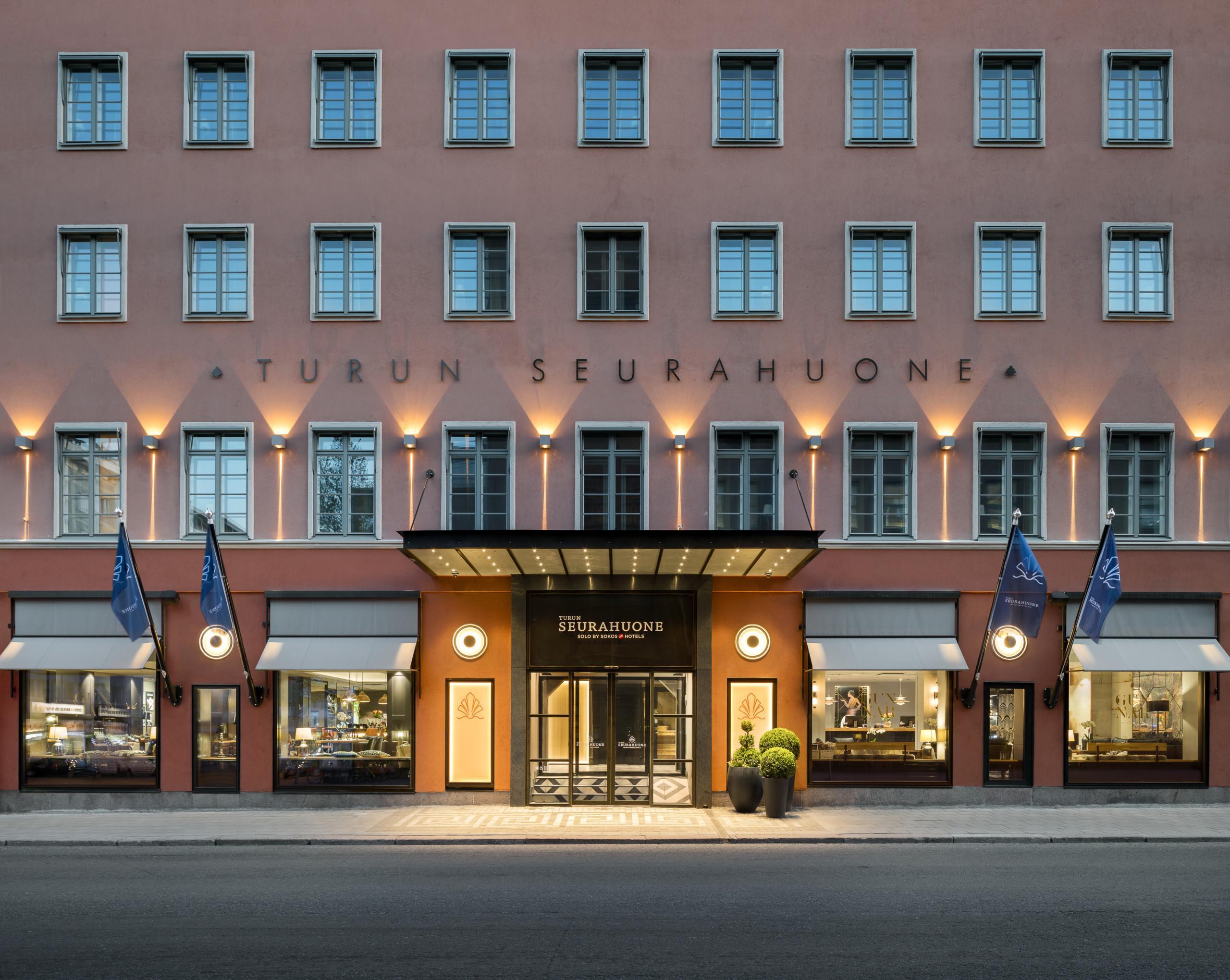 Solo Sokos Hotel Turun Seurahuone is an elegant and lively boutique hotel in the centre of Turku. A classic that's full of surprises, brought from the 1920s into the modern age (renovated in 2019). The walls of our hotels capture a piece of the history – After all, Seurahuone has hosted guests for nearly a century. Each room is unique in size and details of decor. Get ready for a stay in our atmospheric hotel that will please the senses. Pop into the nearby market hall, take part in a restaurant walk, admire art or go to a concert. Find the best shopping locations, cafés and restaurants in Turku – right next to us. Enjoy the best parts of the urban culture of Turku.
Radisson Blu Marina Palace Hotel / Coast & Archipelago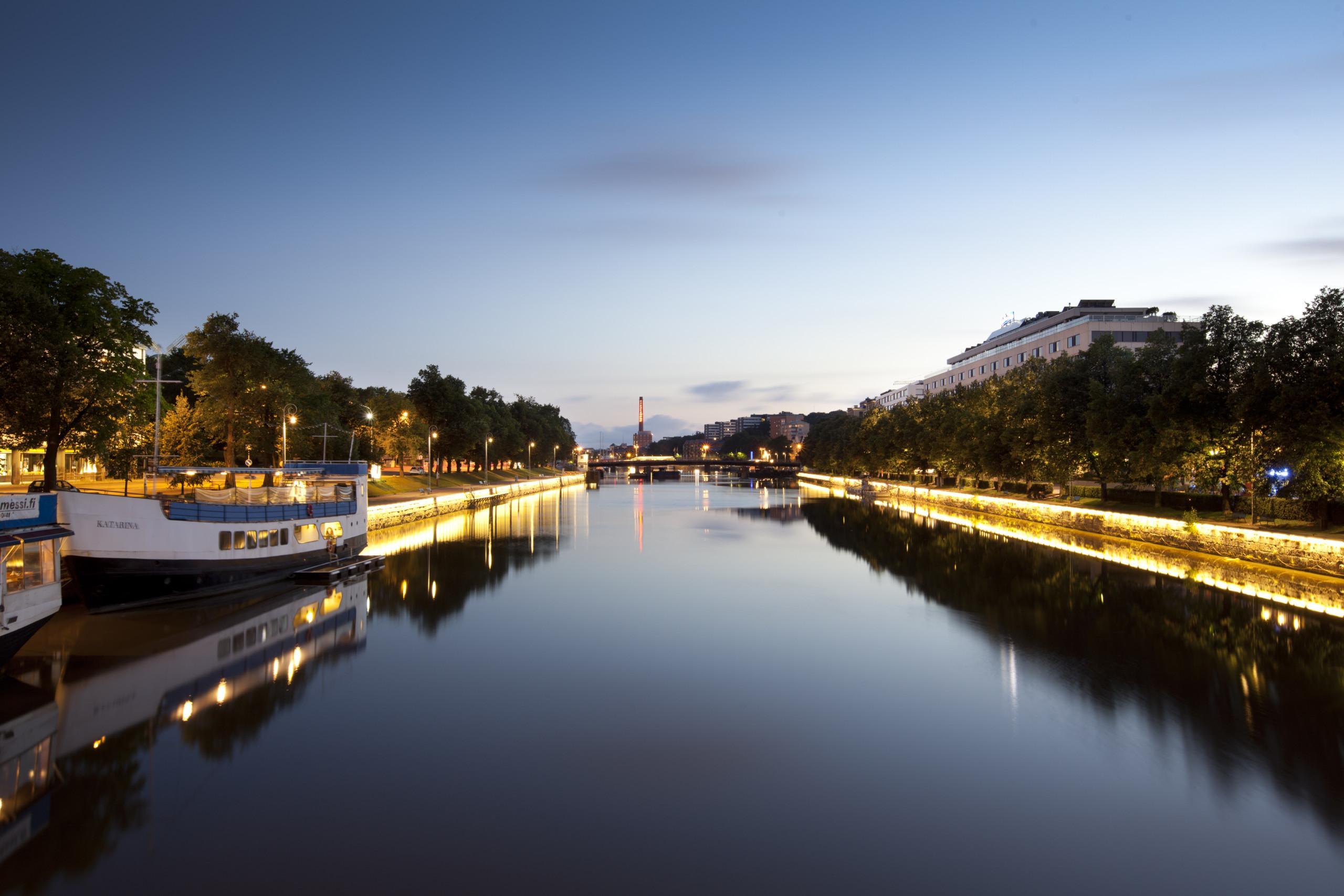 The Finnish city of Turku is often called "the little Paris" for its beautiful river, restaurants, cafés and stylish boutiques. Enjoy lovely views of the Aurajoki River when you stay at the Radisson Blu Marina Palace Hotel in Turku city center. We're within walking distance of Market Square and the Wäinö Aaltonen Museum of Art, and Turku City Theatre.
In addition to its prime location overlooking the boats on the river, our Turku hotel offers 184 stylish rooms and suites with a range of high-end comfortable amenities. Our hotel's ideal location and excellent architecture have drawn noteworthy attention and a significant guest list since it opened in 1974. Our guests will stay at just a 15-minute walk from bus and train transport.
Hotel Krepelin / Coast & Archipelago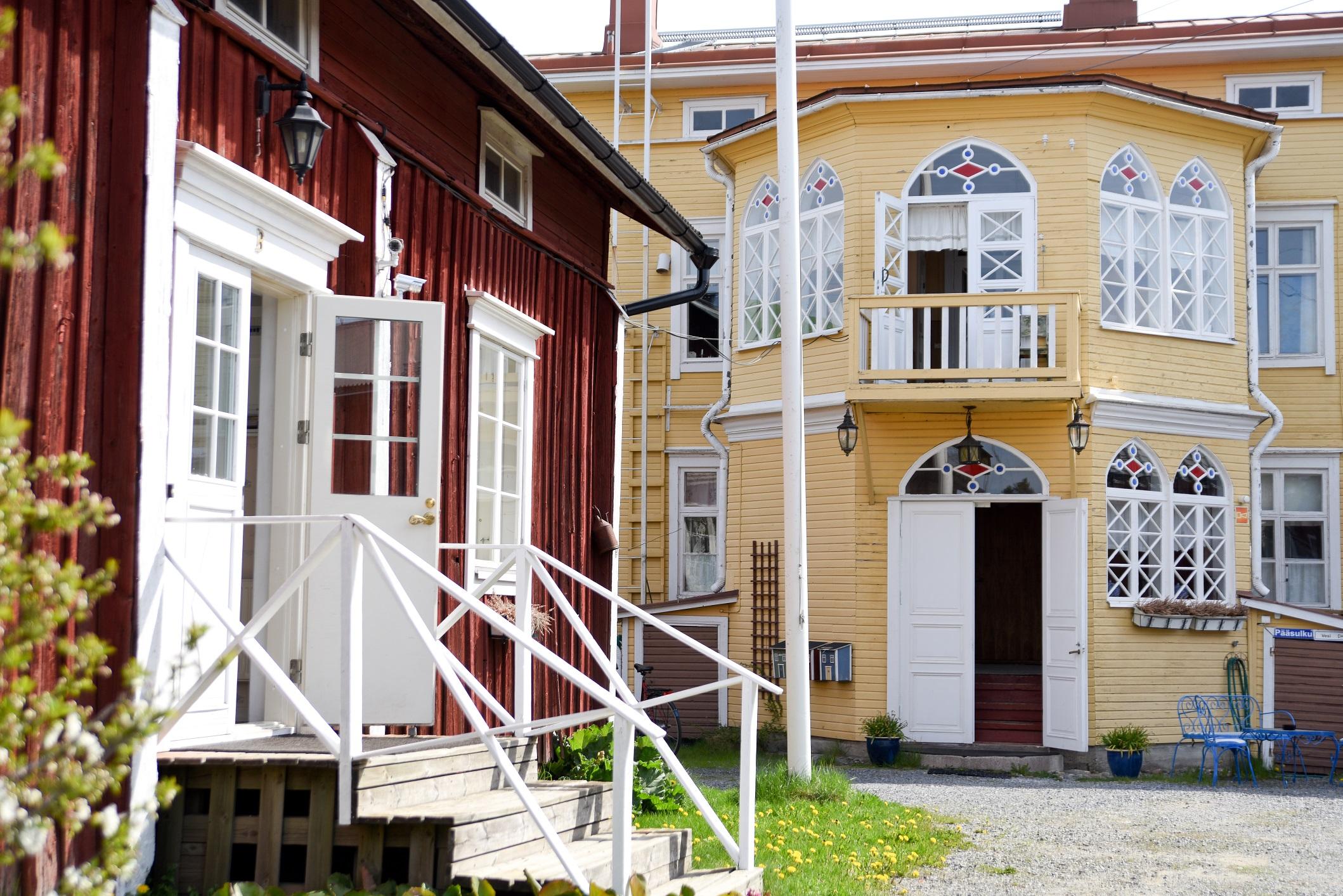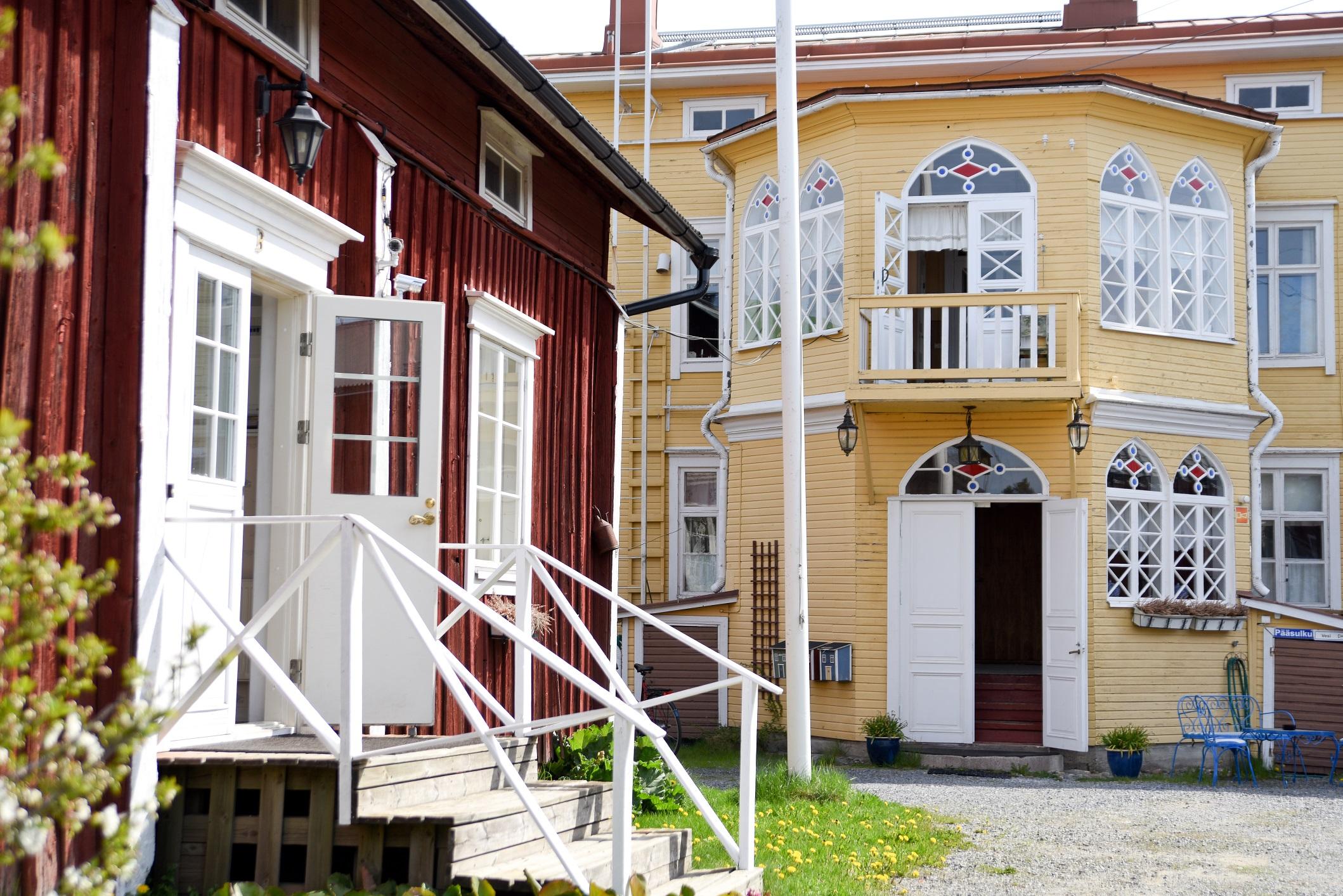 Hotel Krepelin is a small hotel in Kristiinankaupunki, Finland owned by two brothers, who are the fourth generation in the family business. The hotel functions in a 210-year-old yard that used to belong to two merchant families that did business overseas during the height of the city's maritime period.
Built between 1812 and 1816, the buildings in the yard host nine fully renovated apartments available for tourists all year round, each with their own kitchen and bathroom. Krepelin strives to make the local history alive through renovations, events and projects. Krepelin is a sustainable hotel by the ECEAT Finland certificate and Visit Finland STF label.
Luotsihotelli / Arctic Lighthouse Hotel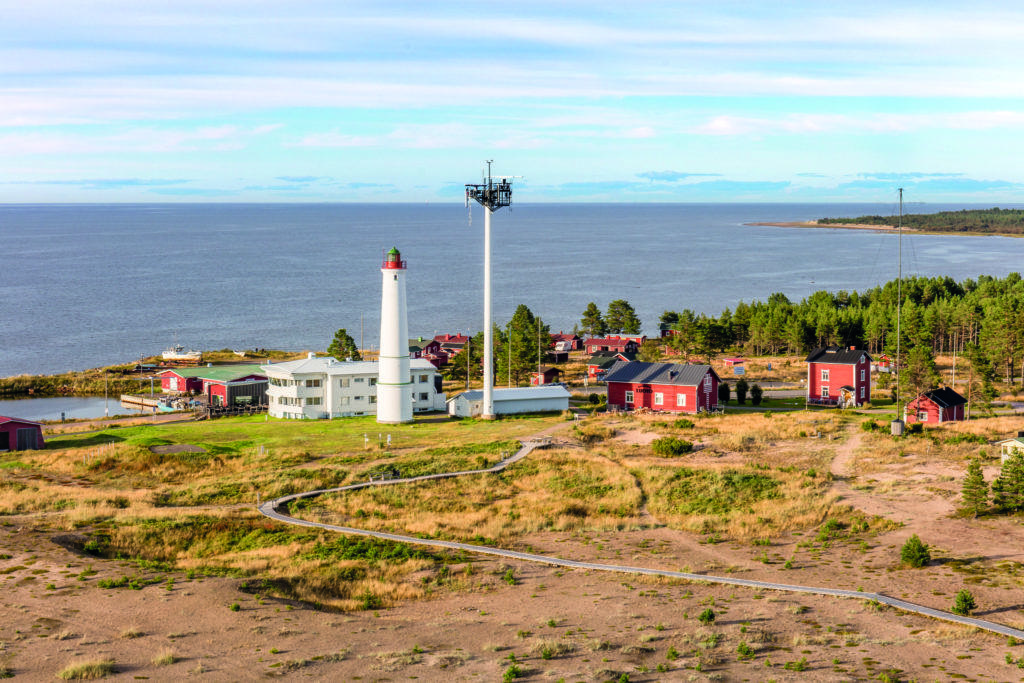 Sound of Silence. The Arctic Lighthouse Hotel is located on Hailuoto, the largest island in the Gulf of Bothnia. It is nestled at the foot of a still functional lighthouse. This location offers exceptional and expansive sea views across the gulf. This truly unique and utterly fascinating venue once served as a maritime pilot station.
Thanks to its truly one-of-a-kind natural setting, Hailuoto island has achieved an iconic status in Finland. Hailuoto is the third largest Finnish sea island and the only one in the Gulf of Bothnia that remains permanently inhabited despite the absence of allyear-round access by road.
Marjaniementie 789, Hailuoto
+358 40 1923464
info@luotsihotelli.fi
Wilderness Hotel Liminka Bay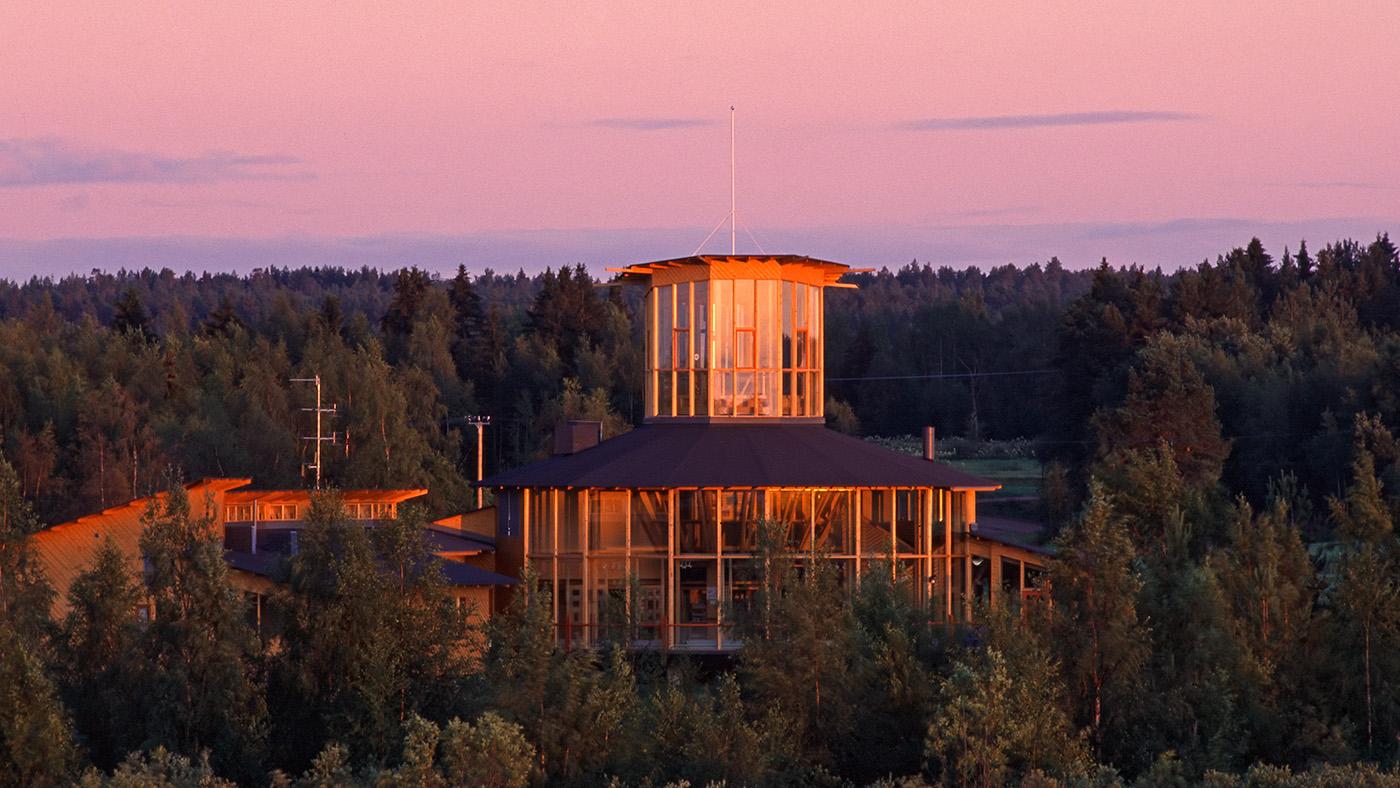 Liminka Bay is a perfect place for nature lovers, birdwatchers and everyone who is searching for peacefulness and silence. Liminka Bay is one of Europe's most important bird wetlands. Wilderness Hotel offers accommodation and cafeteria-, restaurant- and conference services. The hotel is situated in the same building as the Metsähallitus managed Liminka Bay Visitor Centre.
Go Arctic Ltd is a northern tour operator offering travel and program services in Oulu Region. We are specialists of North and arctic experiences. We provide activities, guiding and catering, DMC-services, live productions and educational visits.
Koitelin Tunnelmatupa Café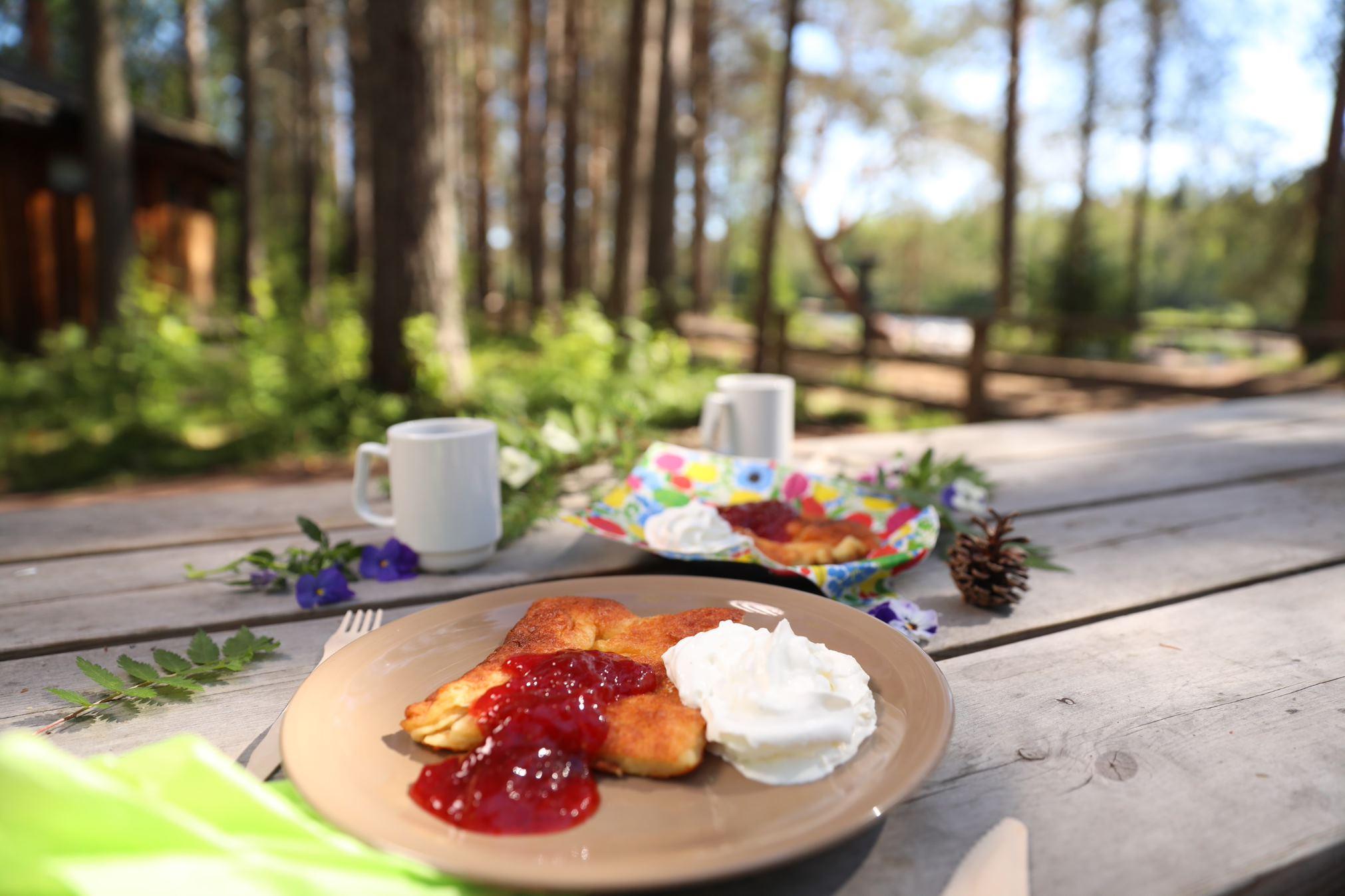 Koitelin Tunnelmatupa Café is located in the middle of the beautiful Koiteli rapids of the river Kiiminkijoki. You are welcome to enjoy our cafeteria products! Tunnelmatupa is rentable for private events and meetings, also with meals and activities, for example rafting, white water swimming and team building.
Go Arctic Ltd is a northern tour operator offering travel and program services in Oulu Region. We are specialists of North and arctic experiences. We provide activities, guiding and catering, DMC-services, live productions and educational visits.
Hotel Hyppeis Värdshus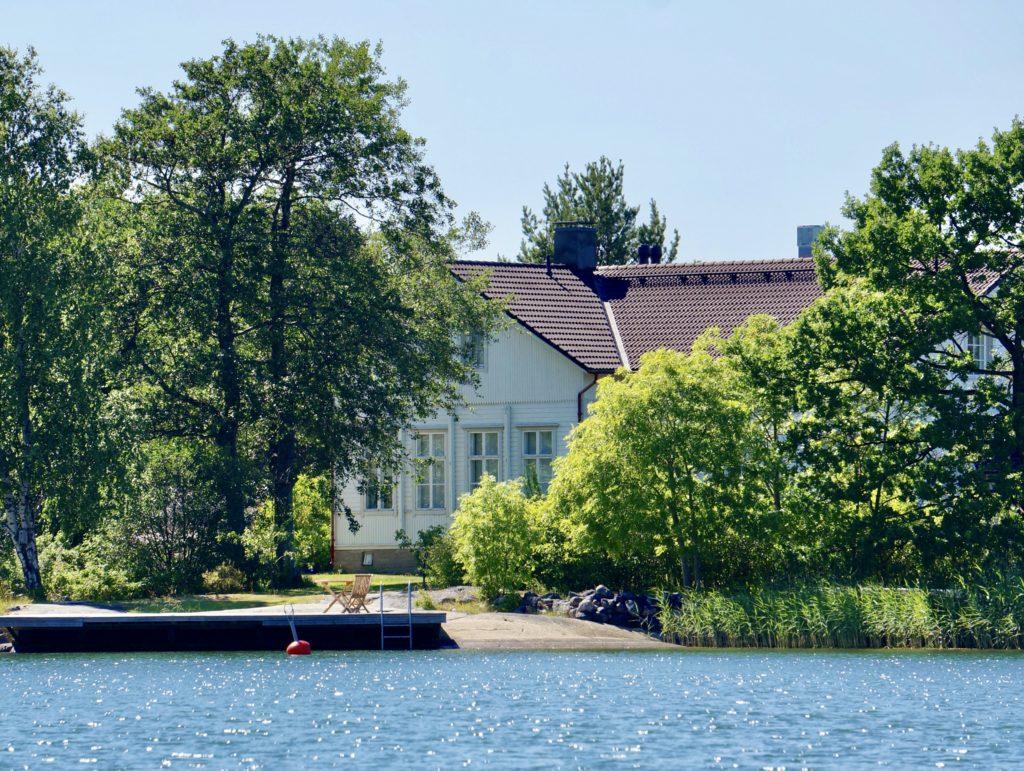 Family-owned hotel Hyppeis Värdshus is located in the beautiful archipelago near Turku and by the sea in the peaceful village of Hyppeis. Hyppeis värdshus is a place where you can enjoy nature – either by just relaxing or taking on some activities. During the day you can take hikes in the woods and explore the cliffs or visit Näsby village or you can take a tour with the kayak. Our menu in the restaurant is designed based on the best seasonal ingredients. We use local produce whenever possible. All our rooms are decorated honoring achipelago traditions and style, and of course all rooms have a sea view. Welcome to the beautiful Finnish Archipelago.
Hyppeisvägen 540, FI – 21760 Houtskär
+358 40 175 7538
info@hotelhyppeis.fi
Restaurant Kuori Food and Wine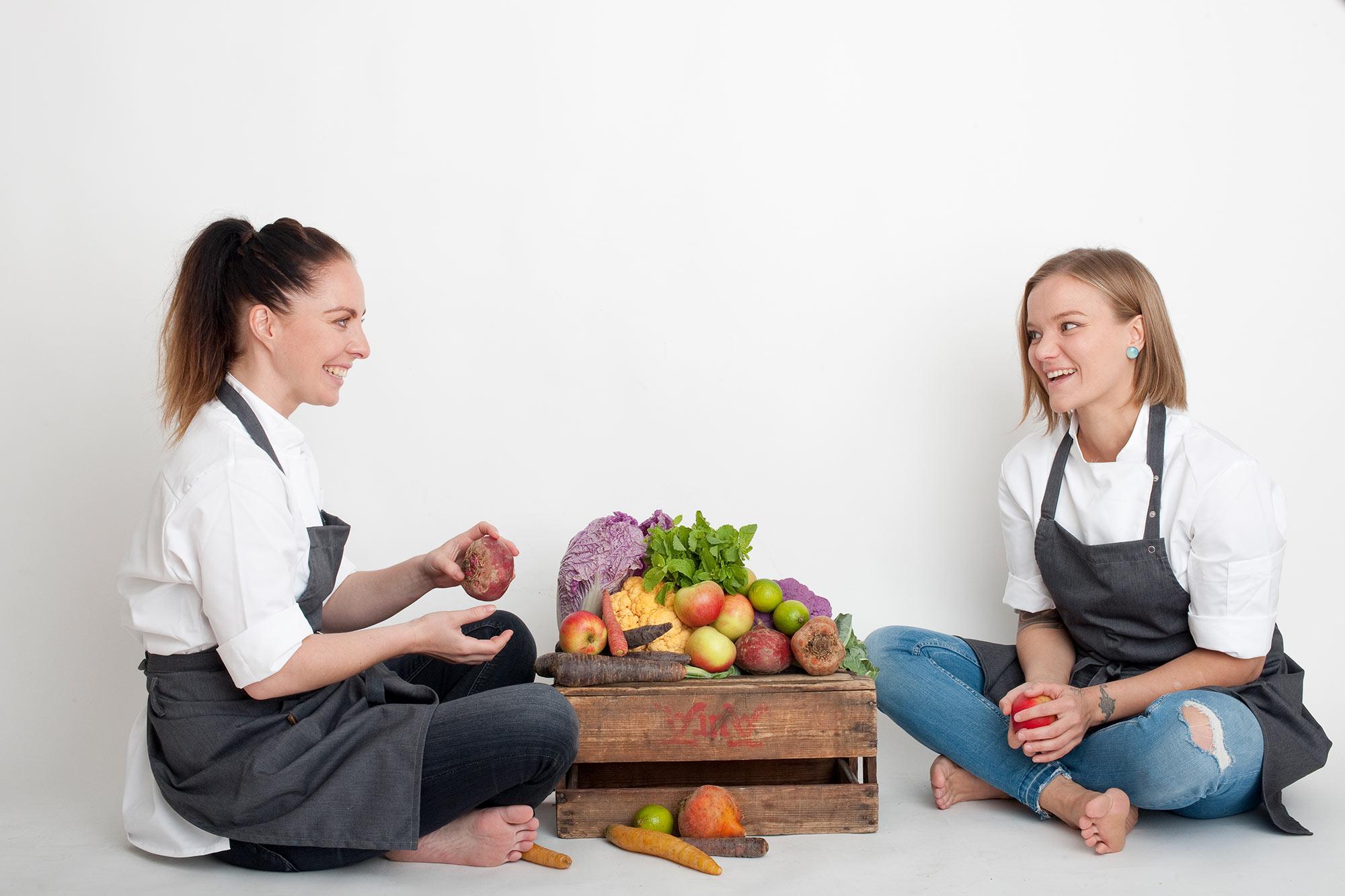 The Restaurant Kuori is a dream come true for Marjaana and Katariina, two women from Turku. Kuori serves vegetarian and vegan food with a flavor from Asia, Middle East and Northern Africa. The ingredients are high quality and locally produced. The food is made with love and it also pleases the eye. All the customers are warmly welcome.
Hämeenkatu 8, Turku
+358 20 7940330
info@ravintolakuori.fi
Restaurant Smör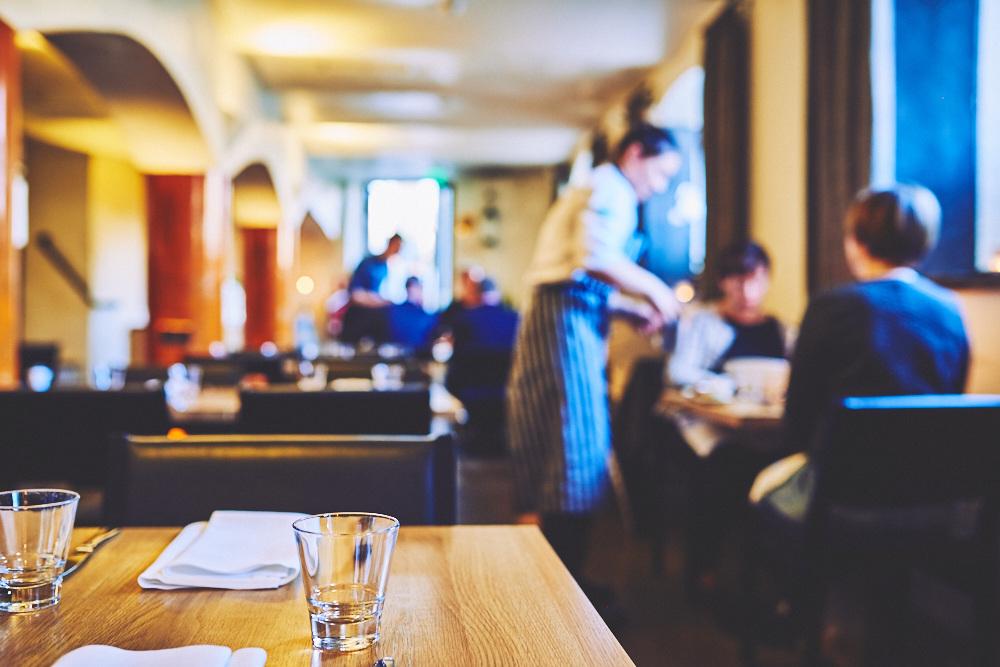 Restaurant Smör is an ambassadors of local food, master of Nordic cuisine. At Restaurant Smör, we draw inspiration from the seasonal and fresh local produce, so we update our menu every eight weeks. Smör is located in the heart of Turku, by the Aura river. It is part of the Voiveljet company.
Läntinen Rantakatu 3, Turku
+358 (0)2 536 9444
info@smor.fi
Restaurant Panini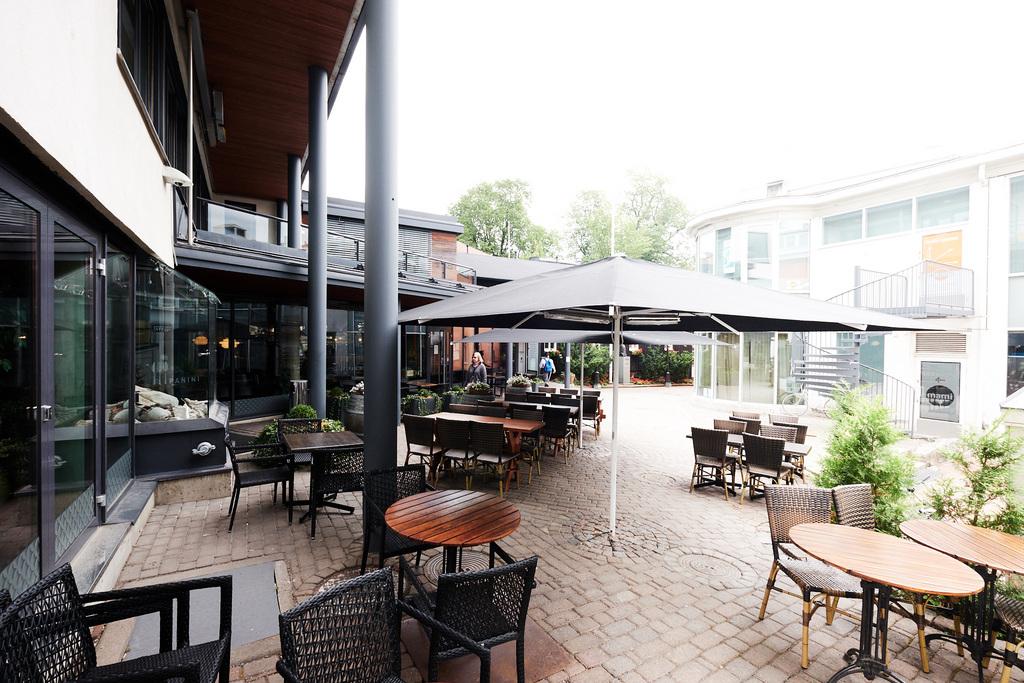 Restaurant Panini is a classic in Turku. The Italian style restaurant has been in the forefront building the image of Turku as the Food Capital of Finland. Panini is like the mamma Italia, always making you feel welcome.
Linnankatu 3, Turku
+358 2 2515310
info@ravintolapanini.fi
Restaurant E. Ekblom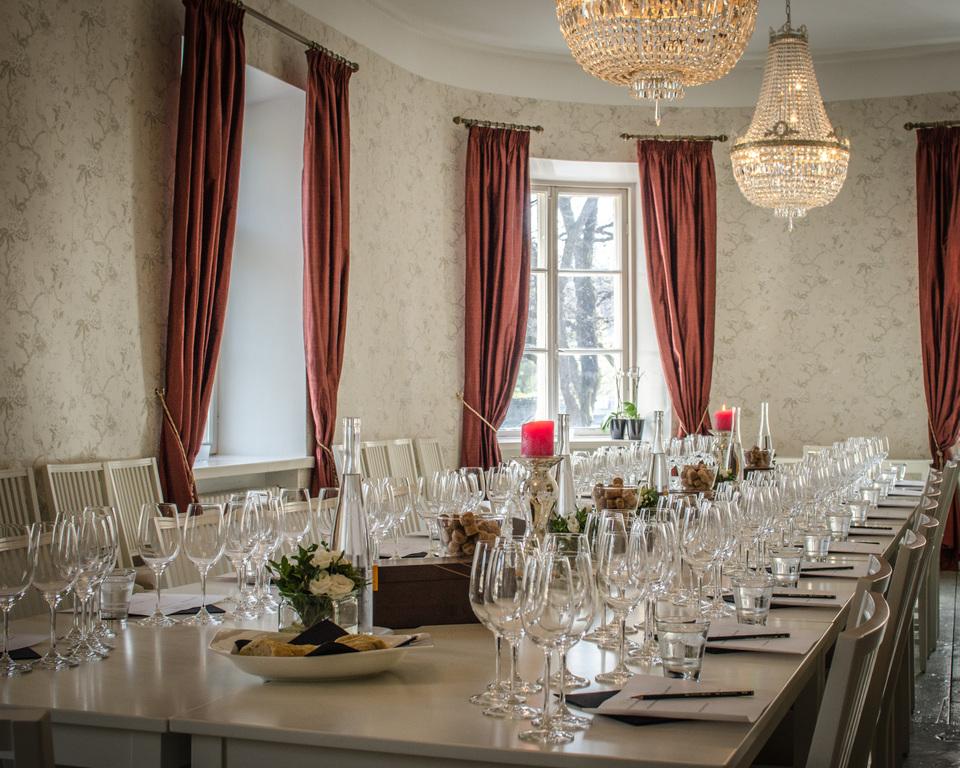 Restaurant E. Ekblom has a weekly changing menu for the modern taste with a local twist. The restaurant is located in a historical building built by watchmaker Elias Ekblom in the middle of the19th century.
Läntinen Rantakatu 3, Turku
+358 2 5369445
info@eekblom.fi
Restaurant Bruukki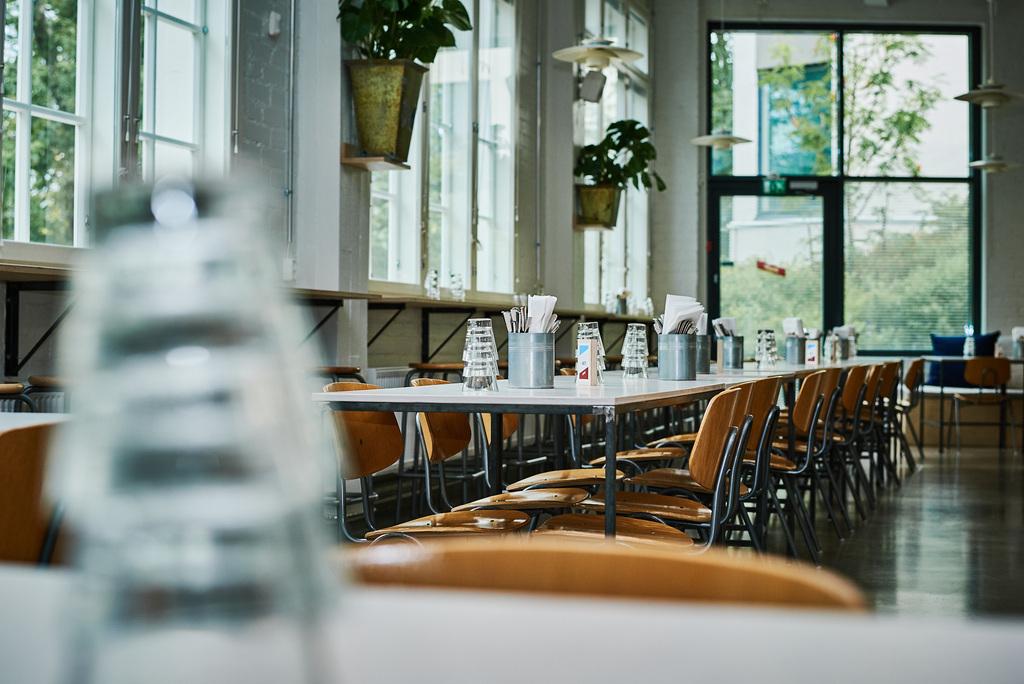 Like most of the restaurants in Turku also restaurant Bruukki is located by the river Aura, next to the bridge Tuomaansilta. In this industrial and casual atmosphere you can have a delicious lunch on weekdays. You can also get something extra from the Bruukki Shop to take home with you.
Helsinginkatu 15, Turku
+358 20 7417331
info@bruukki.fi
Restaurant Göran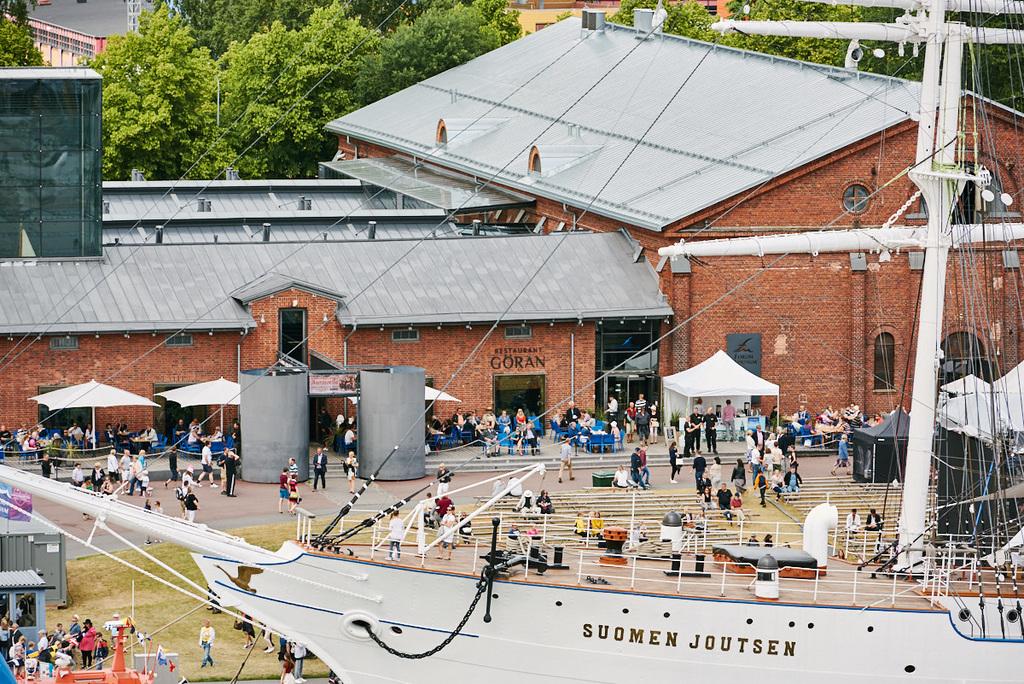 The marine theme restaurant Göran is situated close to the Turku harbour and Turku Castle. On weekdays you can enjoy lunch from a buffet inspired by the Turku archipelago and newly baked bread from the Voiveljet bakery.
Merikeskus Forum, Linnankatu 72, Turku
+358 20 7417330
info@goran.fi
Roots Kitchen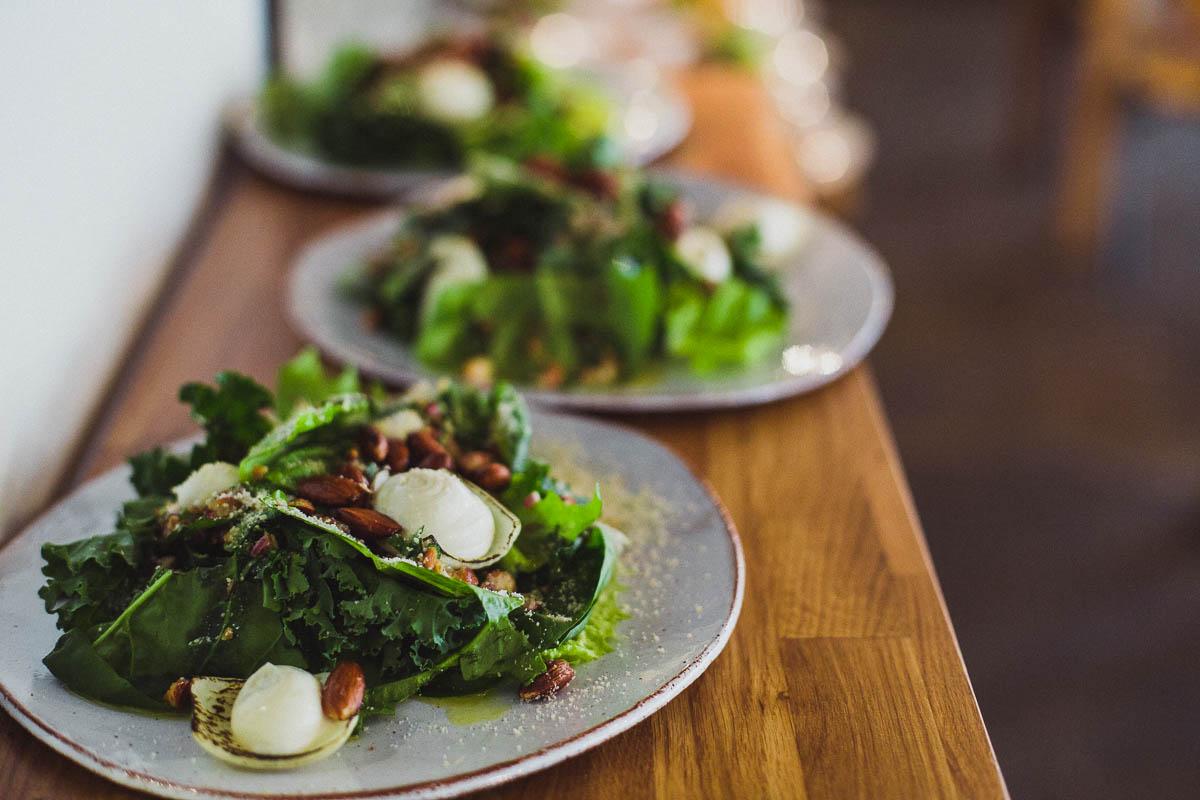 Roots Kitchen has two restaurants, one in Turku and one in Helsinki. Both restaurants are situated in market halls, in historical buildings. The Turku Market Hall was opened in 1896 and the Hakaniemi Market Hall in Helsinki was opened in 1914. Roots kitchen serves colorful and versatile vegetarian food. There is also a vegan menu available.
Hakaniemen torikatu 1,  Helsinki
+358 40 7746047
info@rootskitchen.fi