LGBTQ FRIENDLY LAKELAND
These are the members of the LGBTQ+ Friendly Finland Community in Lakeland. Finland has over 188,000 lakes and around 180,000 islands, many located in the Lakeland district, the largest in Europe. Finnish Lakeland is a blue labyrinth of lakes, islands, rivers and canals, interspersed with forests and ridges, stretching for hundreds of kilometres in a placid and staggeringly beautiful expanse.
These are open minded companies and events that are welcoming to LGBTQ customers creating a safe atmosphere in which you can feel valued and respected. These companies are against racism and all kinds of discrimination, homophobia and transphobia. The members of the community are committed to inclusion and want to embrace diversity in Finland.
HOTELS, BEAD & BREAKFAST AND COTTAGES
Revontuli Resort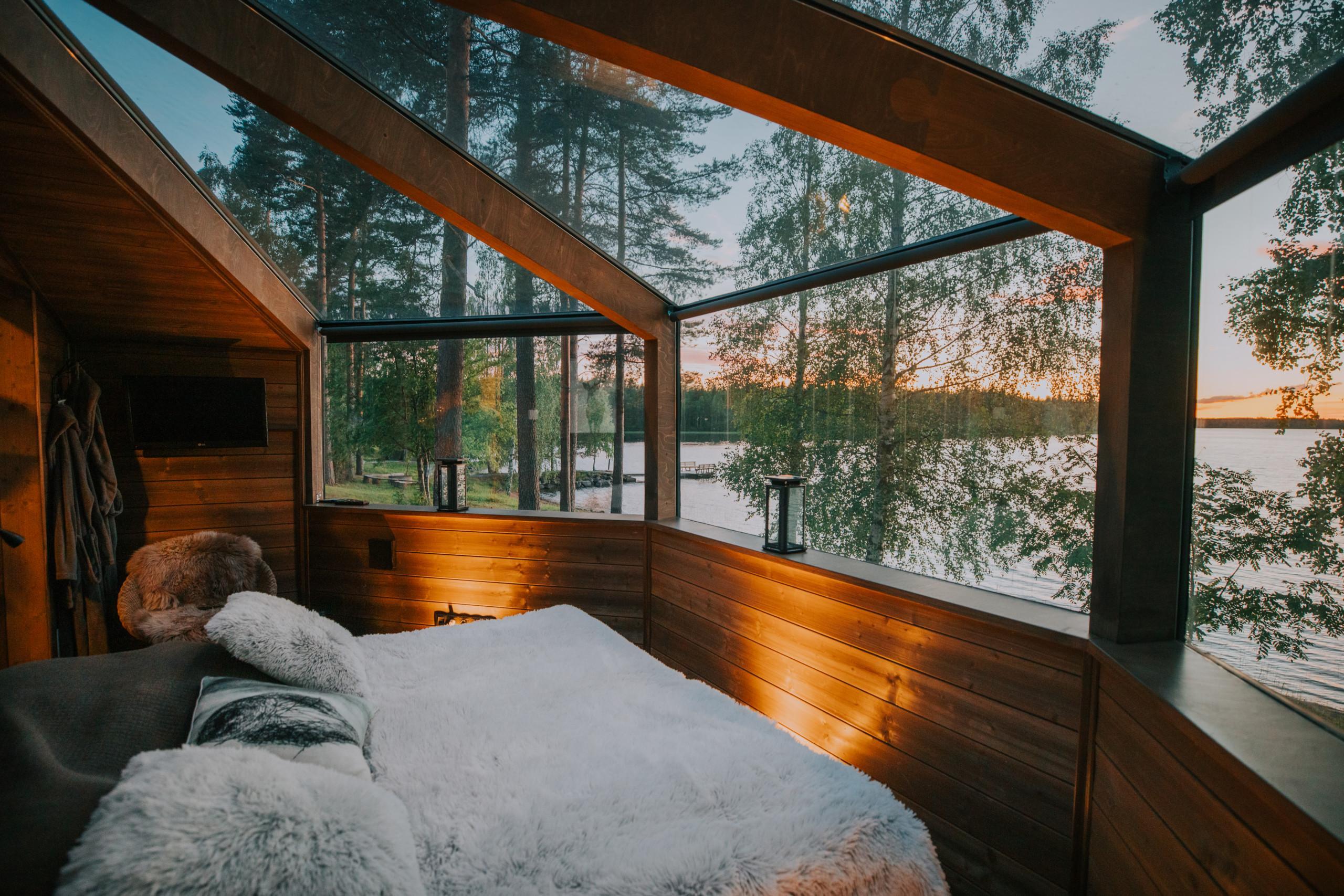 Welcome to your comfort zone! Revontuli – The Northern Lights Resort is a year-round holiday centre in Hankasalmi in the darkest place of whole Southern Finland. The resort is a perfect place for a little pampering, because you can sleep under the stars in luxurious glass igloos, get comfy in holiday cabins, experience the authentic Finnish Sauna in a sauna world and treat yourself with seasonal culinary dishes. And it does not end there, you can also have fun with various activities like hiking, fat biking, snowshoeing, bowling, and golf. Additionally, Revontuli Resort is easy to reach, since it can be reached by train and by car and what is the best, everything in the resort itself is within the walking distance. So, get comfy and come to Revontuli!
Haapala BnB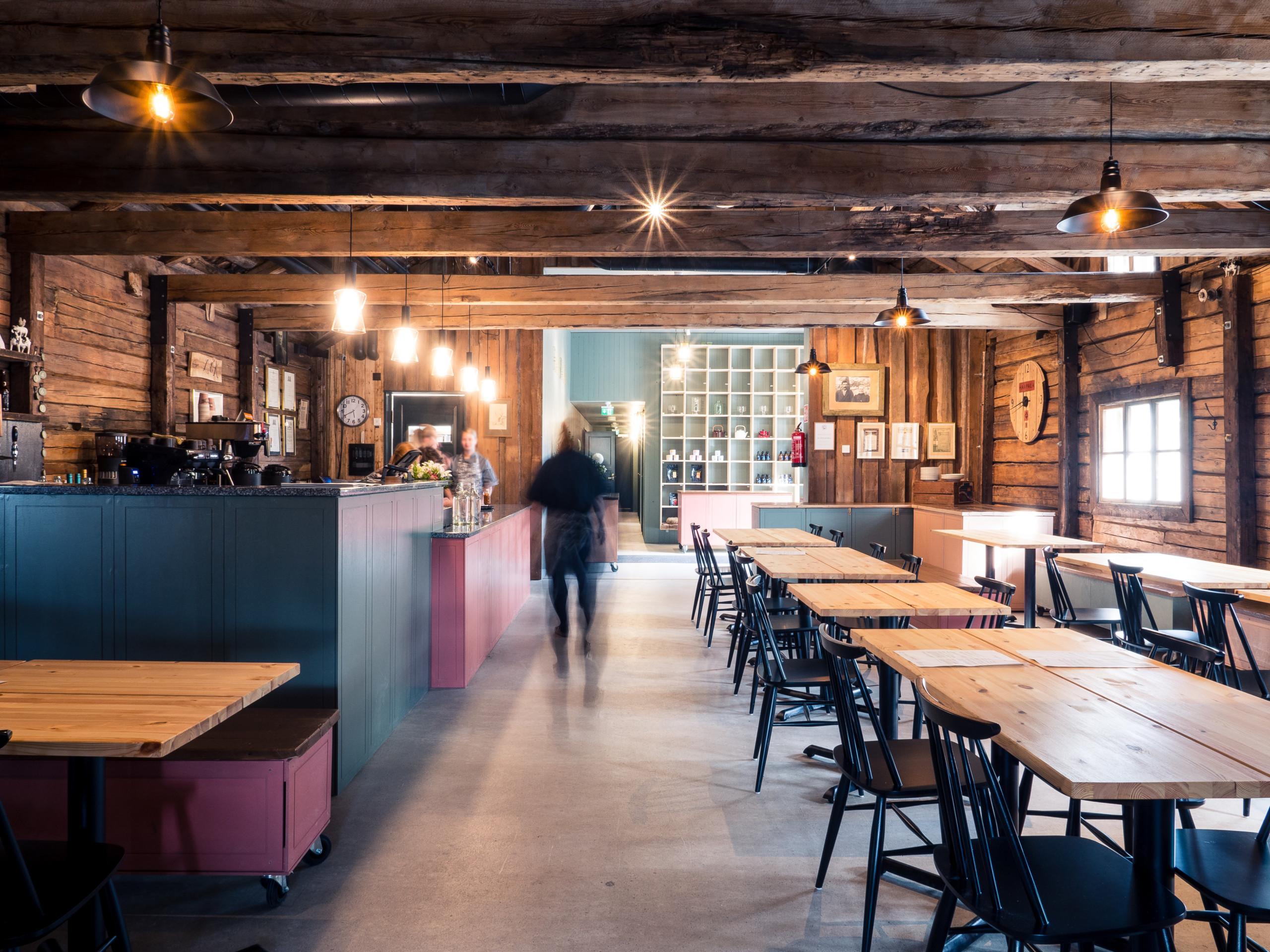 Haapala BnB is a family-owned restaurant, accommodation and brewery, offering modern Finnish experienced enriched in Finland's cultural heritage. Situated on an old family farm right next to the Vuokatti area and its activities, Haapala has got 6 charming two-person rooms in wooden cabins and a self-catering main house built in 1868 that accommodates up to 8 people. Accommodation includes a delicious country breakfast. Haapala restaurant is in an old 1940's dairy and serves also lunch and dinner (please check opening hours from haapalabnb. fi) and can be reserved for private events. The A la Carte menu specialises in sourcing foraged and locally produced ingredients and is has built a reputation for unique Finnish flavour experiences. While visiting the restaurant, you might get to watch the brewing in action from your table while enjoying your meal and Haapala's craft beer!
B&B Pinus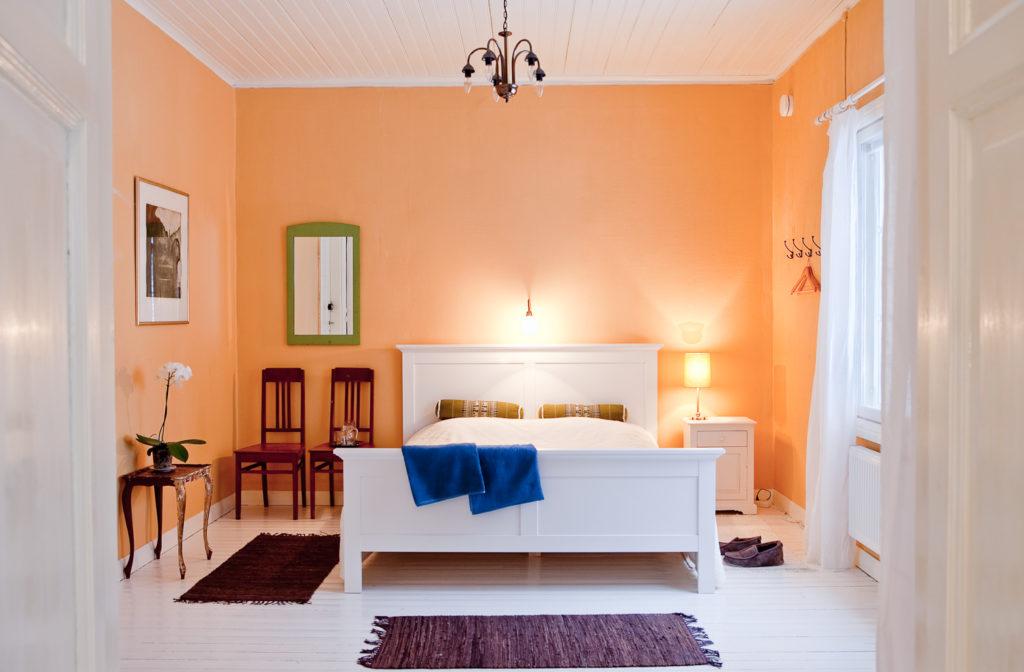 B&B Pinus is a small, peaceful and cozy bed and breakfast style accommodation in Mäntyharju, in the middle of Lakeland area. Pinus is located close to the Mäntyharju village and just 1km from the railway station. You can enjoy art in the famous Salmela art center which is nearby and go hiking in the Repovesi national park. This is our first We Speak Gay Community member in the lakeland area and is welcoming to LGBTQ customers.
Työväentie 35b, Mäntyharju
+358 40 1819200
bbpinus@gmail.com
Kaidan Kiho Villas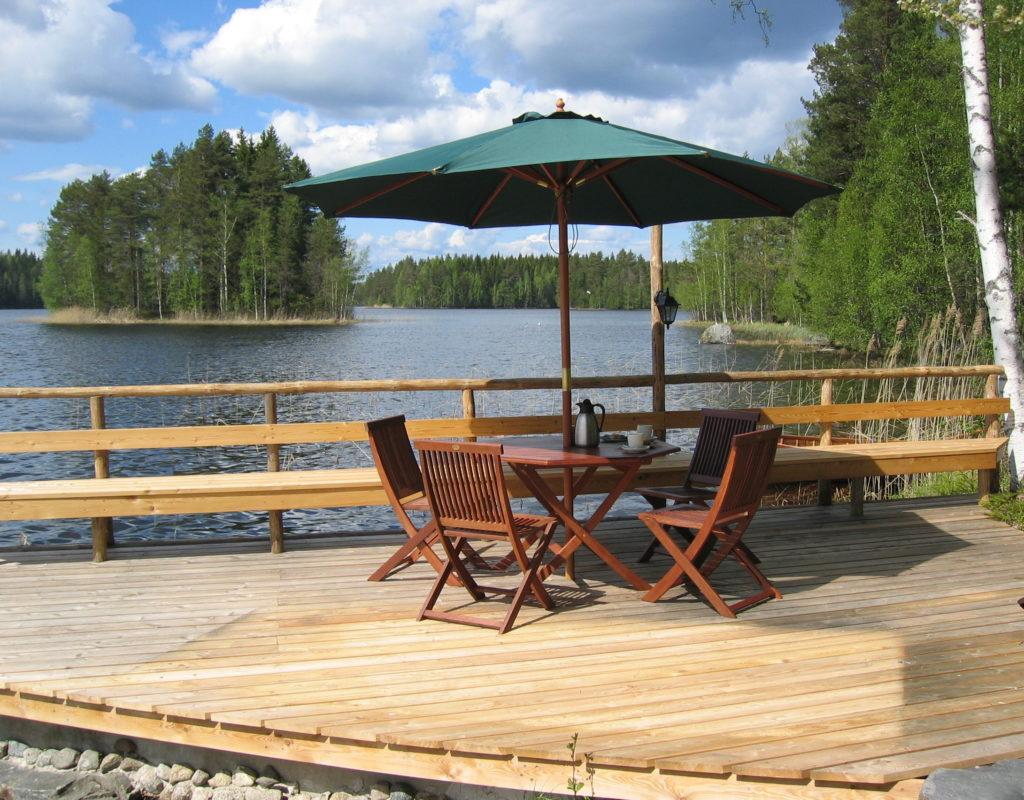 Enjoy the Kaidan Kiho Villas in the Lakeland area in Mikkeli. These eco-friendly and gay-friendly holiday homes offer luxury in the beautiful Finnish countryside. As additional service, we offer the famous smoke sauna at Kaidan Kunkku, which can be used until early in the mornings. An amazing experience. Another option for accommodation is B&B Tuukkalan tila that offers rooms in an apartment around the year. During the summer it is also possible to overnight in  cozy granaries. Very Finnish and very romantic.
Mäntyharjuntie 61, Ristiina

+358 45 634 9299


info@kaidankiho.com
Hotel Punkaharju / Lakeland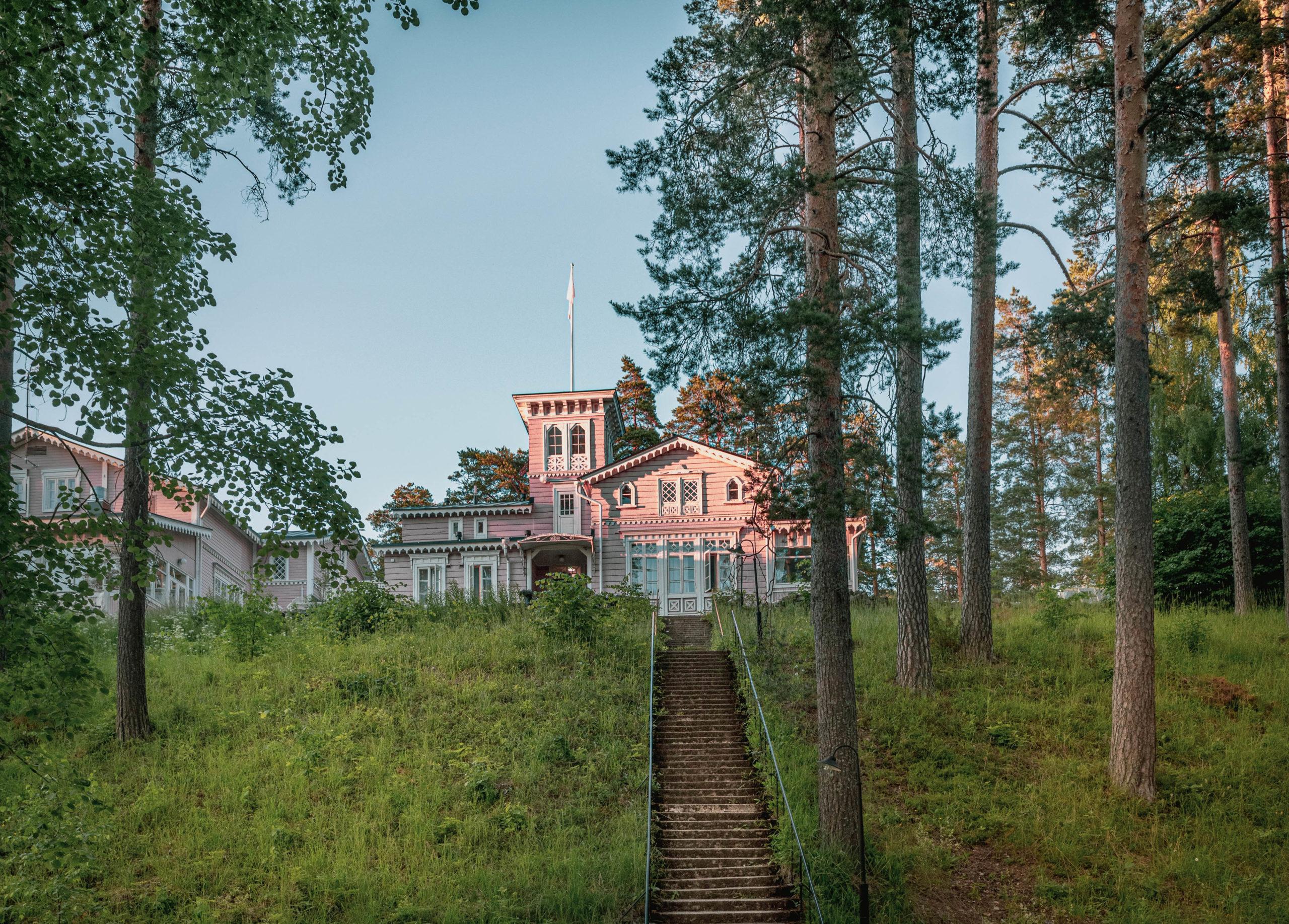 The historic Hotel Punkaharju, located in Finland's national landscape, is a phenomenon experienced by all senses, a place where love for the forest and lake nature combine with art and culture. The hotel run by Saimi Hoyer offers magnificent exhibitions, top artist shows, themed events and of course the rewarded local cuisine created by the hotel kitchen. Not to forget the unique settings for top meetings and the most important celebrations of your life!
Punkaharjun Harjutie 596, Punkaharju
+358 15 511 311
welcome@hotellipunkaharju.fi
Hotel Kalevala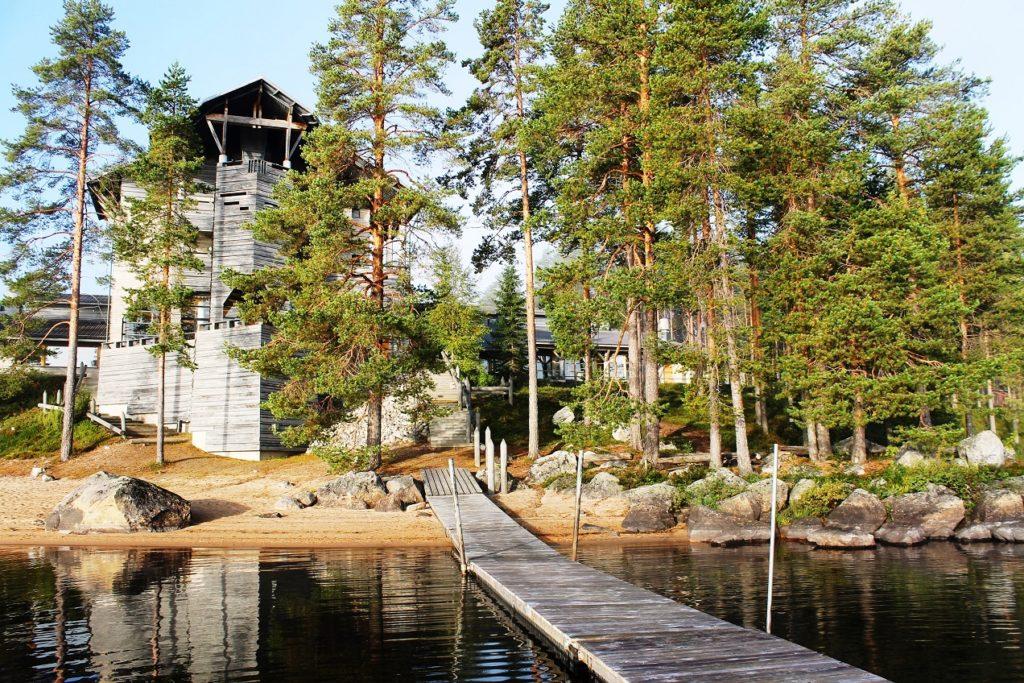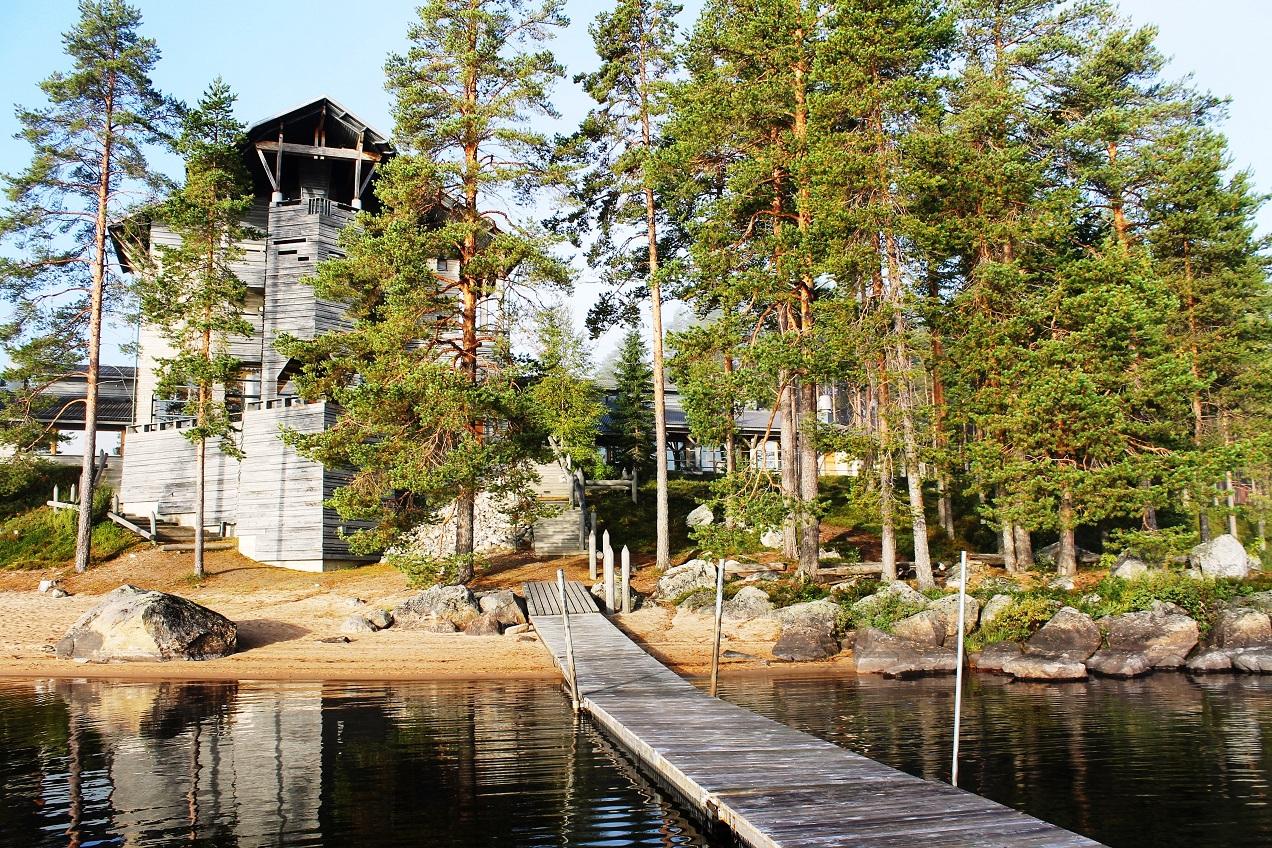 Welcome to Kuhmo, a small town in north east Finland. Surrounded by ancient forests and crystal clear lakes, this is a wonderland with nothing but unspoilt nature as far as the eye can see. Kuhmo is perfect for wilderness and activity adventures. Hotel Kalevala provides a unique experience from beginning to end for any holiday. As soon as you arrive you are invited into a mythical world and the adventures of the Wild Taiga.
Väinämöinen 9, Kuhmo,
+358 40 707 8911
info@hotellikalevala.fi
Lentiira Holiday Village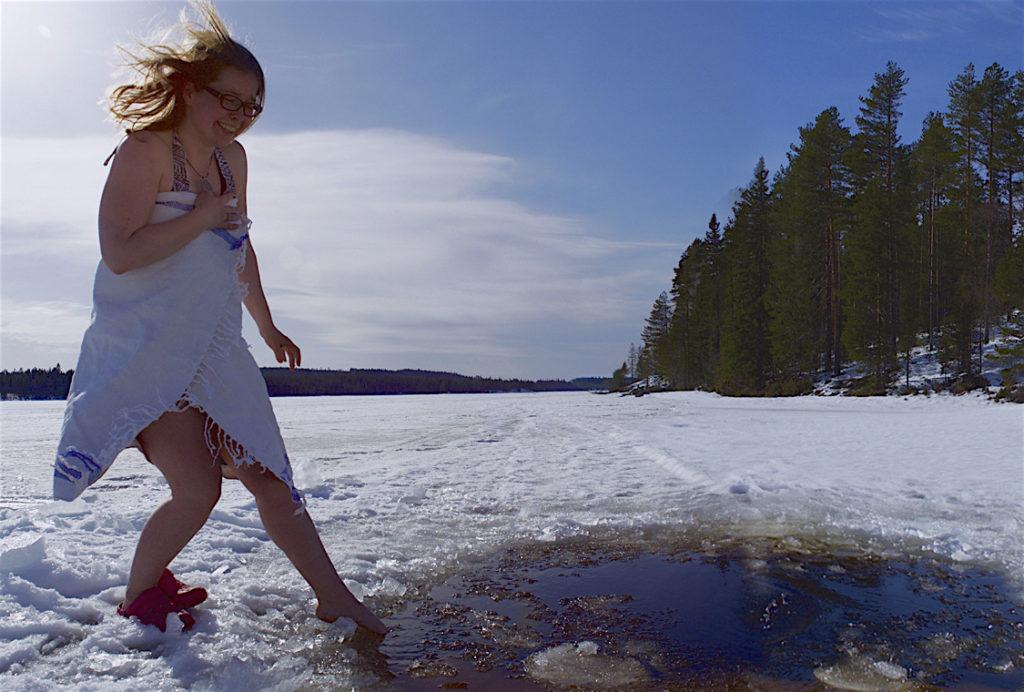 Embrace your wild side! Lentiira Holiday Village is a perfect starting point for your explorations in the arctic lakeland. Whether an uncompromising wilderness enthusiast or gathering together for relaxation and natural wellbeing, you will sure have a delightful stay in Lentiira. We offer B&B cottage accommodation with wilderness programs and traditional smoke sauna evenings all year round.
In collaboration with our local partners we provide guided elk safaris, bear watching and fishing trips as well. Hiking, canoeing, biking, swimming, cross-country-skiing and snowshoeing are popular activities that are available as soon as you step out from your cottage. Just bring Your curious mind along, and Lentiira's square magic will be there for your to discover.
Petäjäniementie 121, Lentiira Finland
+358 44 728 8930
sales@lentiira.com
Säynätsalo Town Hall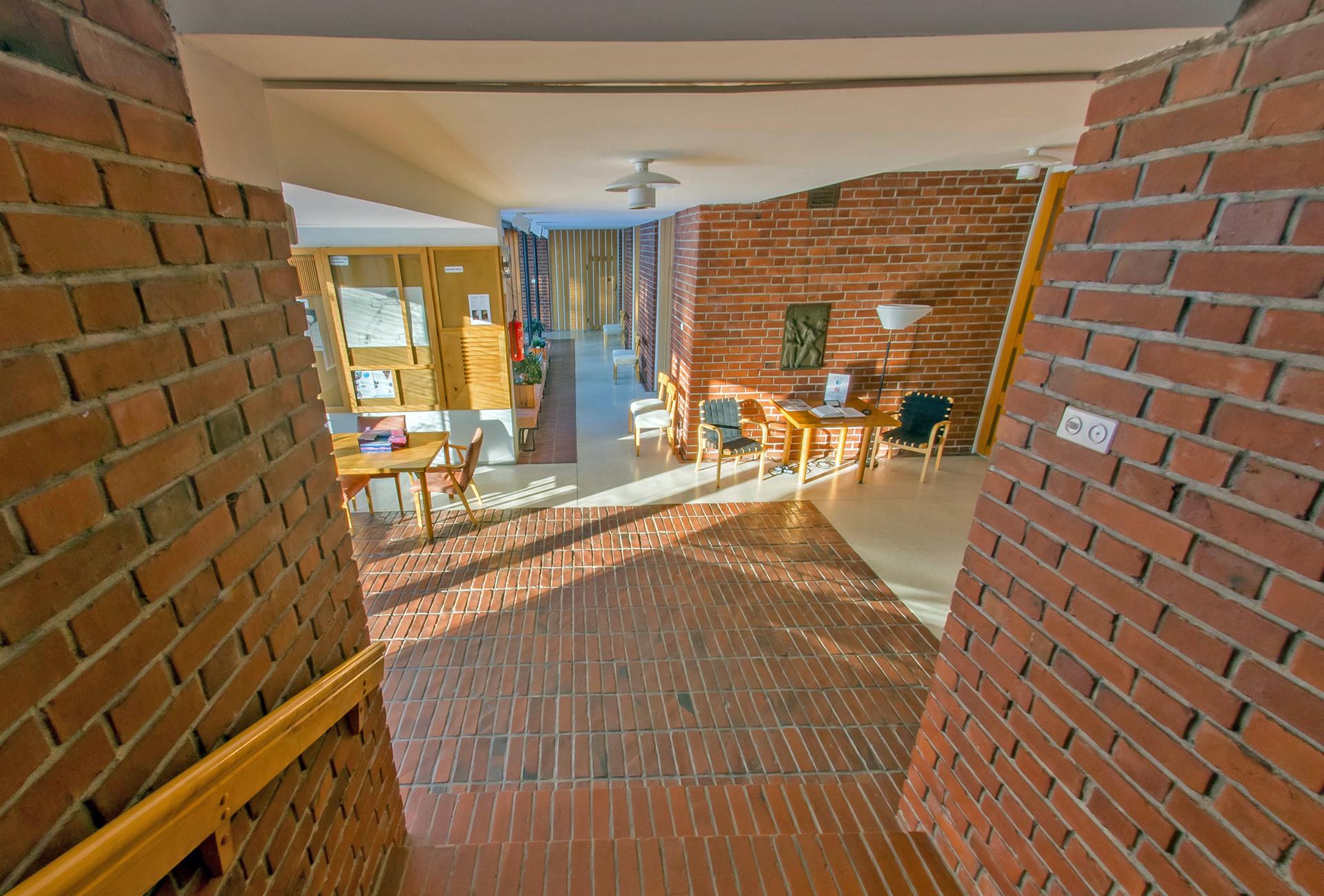 Säynätsalo Town Hall is one of the most significant works of architect Alvar Aalto. The building has an internationally renowned position in the history of modern architecture. Despite its name, the building is no longer in administrative use, as Säynätsalo is now part of the city of Jyväskylä.
Numerous visitors from all over the world come to admire and marvel at Aalto's beloved masterpiece. In addition to architecture, the archipelago environment of Säynätsalo offers plenty to do and experience. Aalto himself fell in love with Säynätsalo and named the islands "Tahiti of Lake Päijänne."
There are unique and original apartments and guestrooms to stay overnight.
The Town Hall also has meeting and banquet facilities, e.g., for marriages.
Kommee Kurki vacation house & private Tentsile camping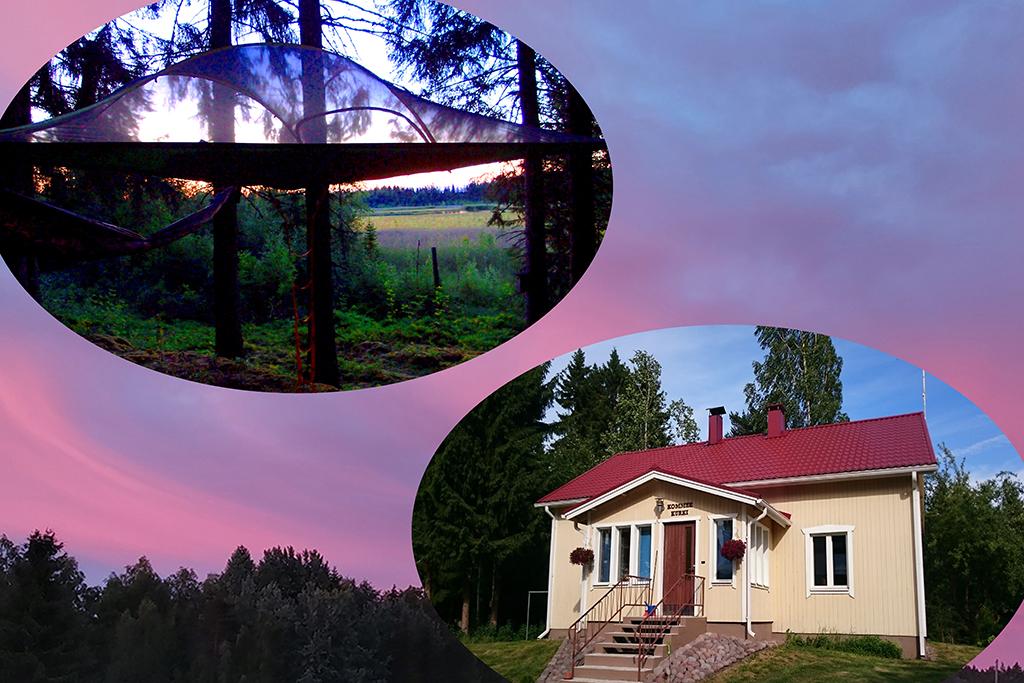 Kommee Kurki stands for safe accommodation in high quality house and at our private Tentsile tree tent campsite surrounded by an amazing soundscape. This is the perfect place for nature lovers, cyclists, hikers and families with children. Kommee Kurki is located in the countryside of Sastamala in the Tampere Region. Why not take a break in this relaxing atmosphere?
Kommee Kurki is situated next to a bird lake which is home to cranes and whooper swans. The Tentsile campsite is at the best viewpoint to watch the cranes and is available during May-September. The well-equipped vacation house of 100 m² is available year-round. Read more and book at our web store:
Pirteeks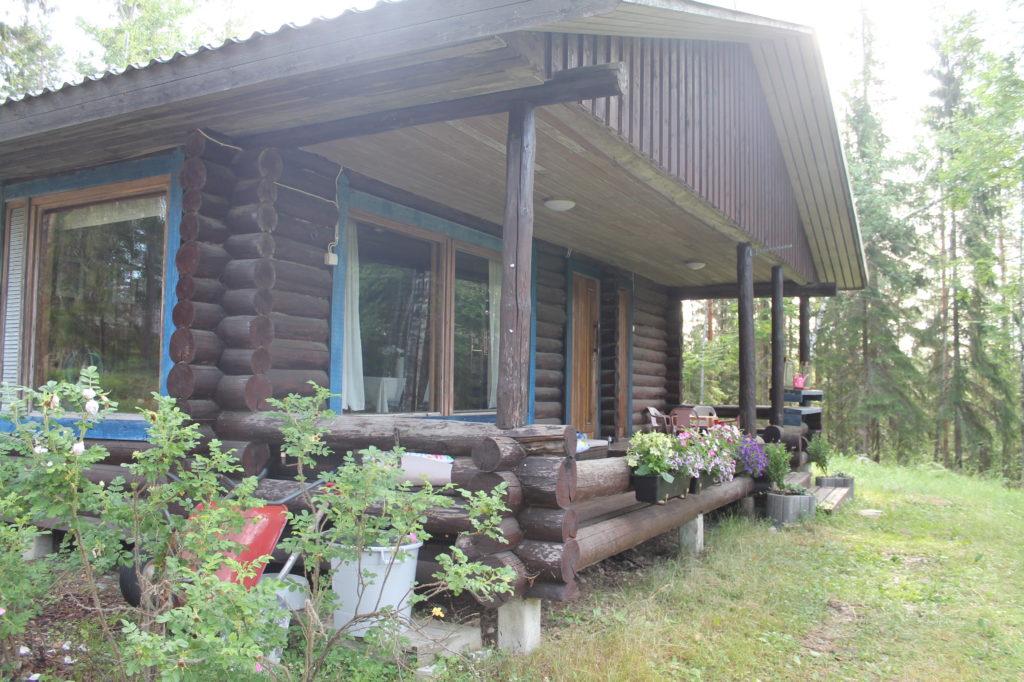 Pirteeks is a small family owned company in Loppi, one hour drive from Helsinki. We value nature, sustainability, acceptance and love. We offer mainly nature related activities and services including outdoor training camp, meditation, SUP-boarding and health counselling. There are great hiking and cycling trails around the place. We also have a small cozy cottage for accommodating up to six persons. It is located close to the main building which gives you a feeling of safety and our help is close to you. That said the cottage also has a sense of privacy and you can spend your time there without anyone bothering you. We also offer authentic smoke sauna experience close to our main building.Welcome.
Finnish website: www.pirteeks.fi
English website: www.natureinyou.fi
Kieppirinne 15, Pilpala
0403639287
anu.kosonen@pirteeks.fi
ATTRACTIONS
Serlachius Museums / Lakeland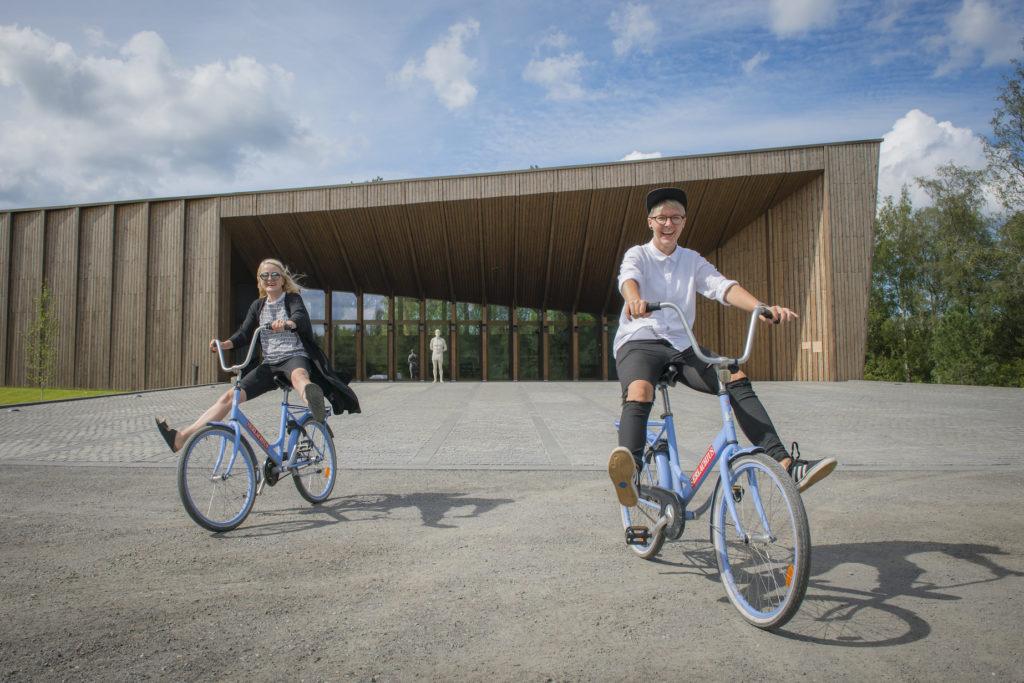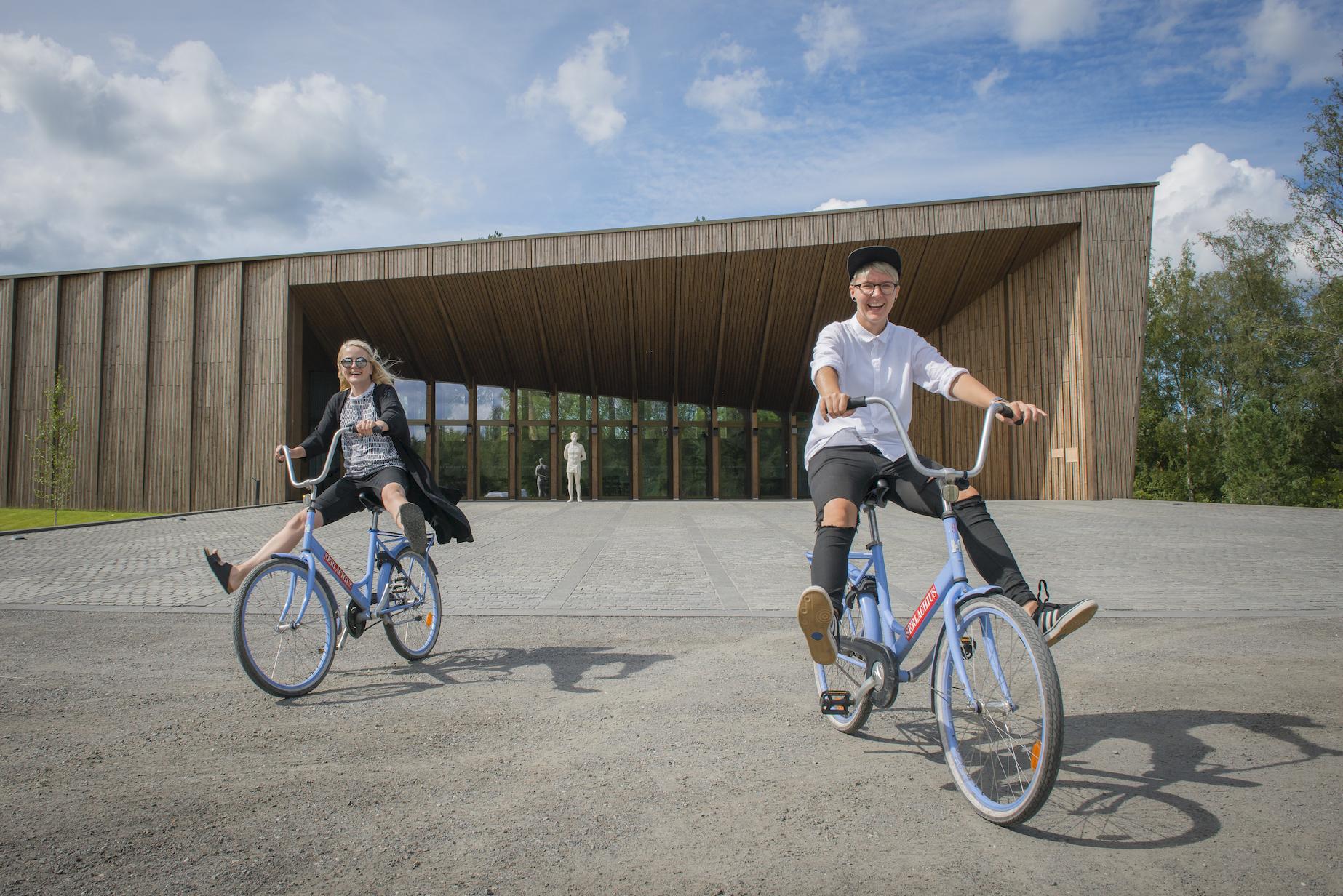 Are you a lover of art & design, looking for a unique place far from mass-tourism, but still classy? Multi-awarded Serlachius Museums got it: a hidden gem in the middle of nowhere, but still reachable within an hour from Tampere. We offer high-quality service for everyone, national art treasures, intriguing stories, contemporary art exhibitions, stunning architecture and top cuisine in the midst of beautiful lakeside nature. No wonder that Serlachius was chosen as one of the top sights in Finland (Lonely Planet). The shuttle bus from Tampere to Art Town Mänttä & Serlachius runs around the year taking you right in the heart of art!
Joenniementie 47, Mänttä –  R. Erik Serlachiuksen katu 2, Mänttä
+358 3 4886800
info@serlachius.fi
EVENTS
The Savonlinna Opera Festival / Lakeland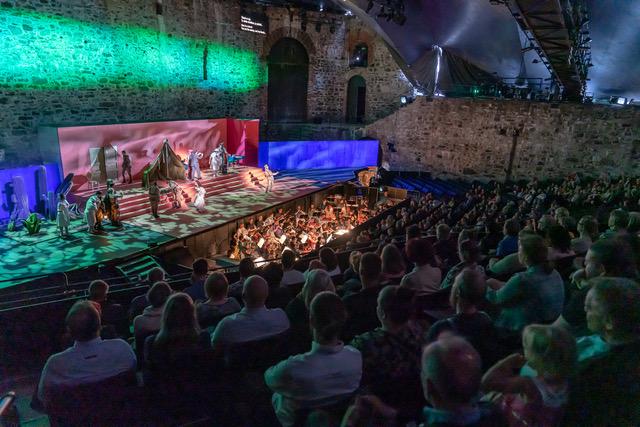 The Savonlinna Opera Festival is Finland's premiere cultural event. World renowned for its high-quality opera performances and concerts, every summer it brings music lovers from across the globe to the charming lakeside city of Savonlinna. The month-long festival is held in Olavinlinna, a towering medieval castle by Finland's largest lake. This creates a uniquely dramatic ambiance for its 70 000 visitors. Once inside, festival-goers are dazzled by classics and rarely seen works as well as world premieres and visiting productions from esteemed opera houses like La Scala and the Bolshoi Theatre.
Tampereen Sävel – Tampere Vocal Music Festival / Lakeland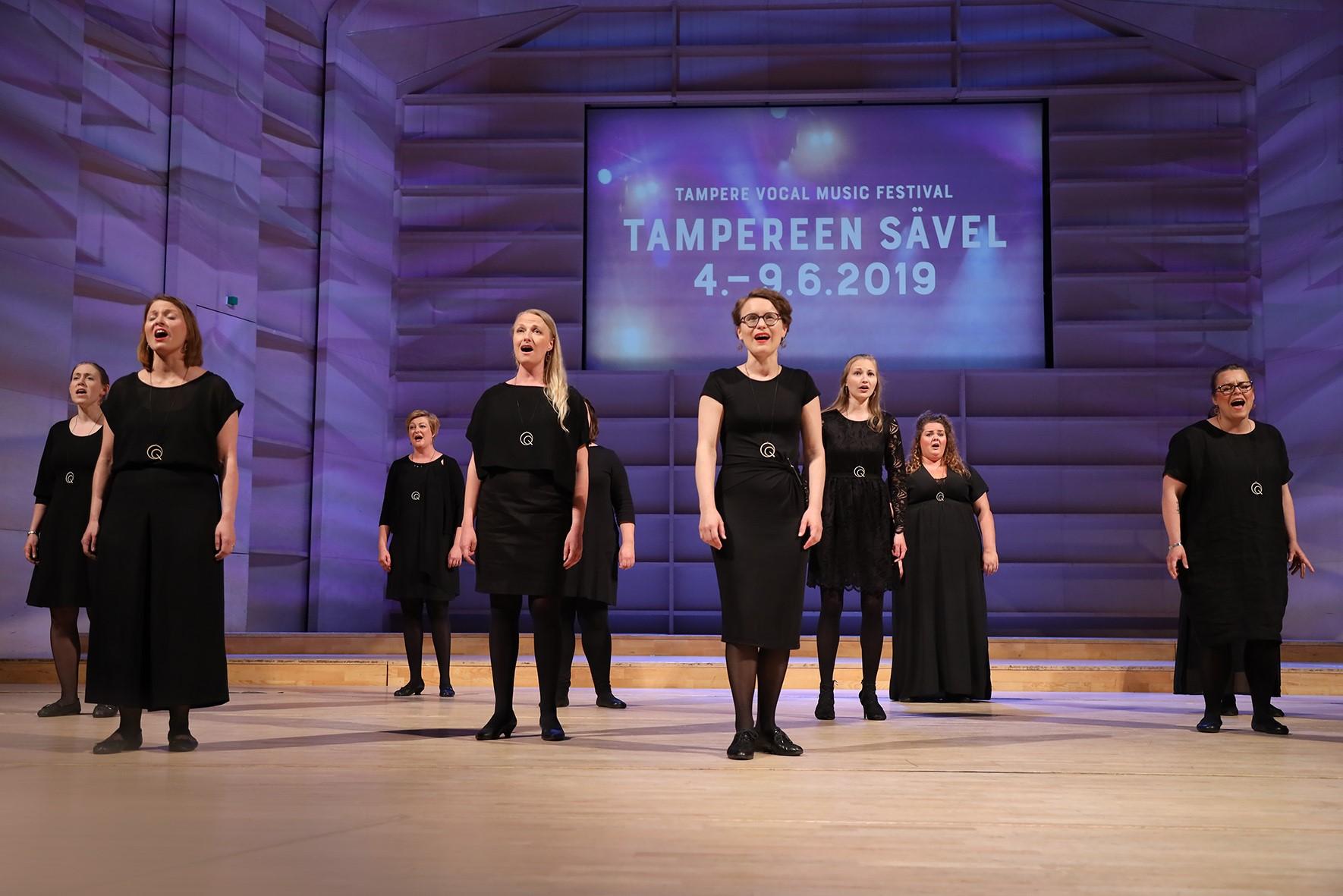 Tampere Vocal Music Festival was founded in 1975 and it is held biennially in the beginning of June. The festival programme offers an international chorus review, a contest for vocal ensembles and a rich variety of concerts, workshops and festival clubs. Concerts are performed by choirs, ensembles and even solo vocal music artists. While the Chorus Review showcases numerous choirs from around the world, the Contest for Vocal Ensembles gives a boost to fresh new vocal bands. The workshops offer new ideas for both vocal music professionals and amateurs, and in the evenings the festival clubs gather people to the most attractive gig venues in town. Tampere Vocal Music Festival gathers together about two thousand singers and a wide audience of vocal music enthusiasts.
Tampere Jazz Happening / Lakeland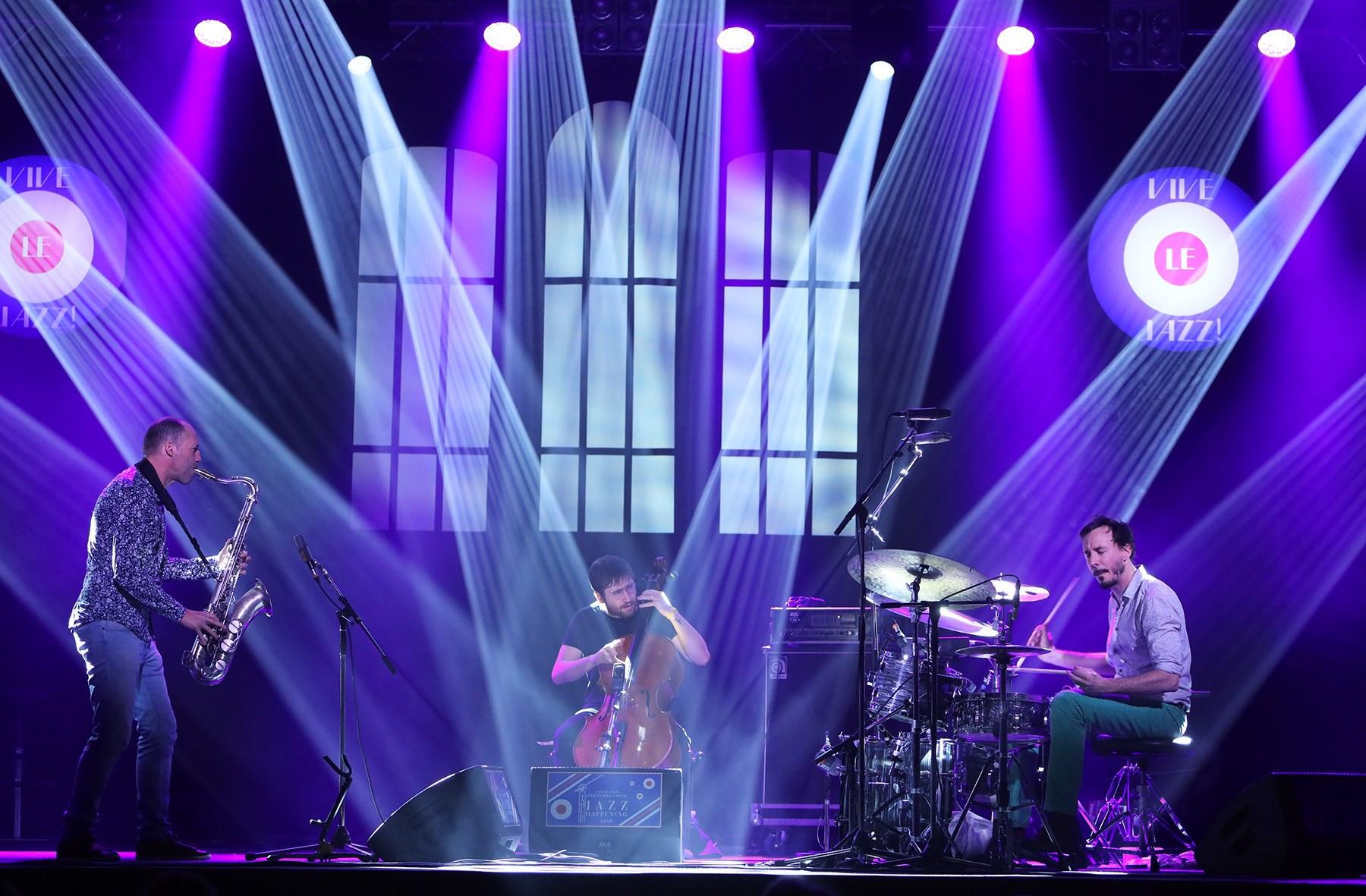 The flagship of modern jazz, Tampere Jazz Happening, was founded in 1982. In the beginning it was organised by the jazz-club Break in conjunction with the City of Tampere's cultural board. Tampere Jazz Happening's unprejudiced and first-rate programme has turned the festival into one of Europe's most intriguing jazz happenings. The programme highlights the influence of rock and ethnic music on the development of modern jazz. The concerts are held at venues around the Old Customs House square: Restaurants Klubi and Telakka and at the Old Customs House Concert Hall. The annual festival takes place at the turn of October.