"When you understand, support, collaborate, love, feel, accept every human being for being different". Acknowledge differences, understand differences, embrace differences.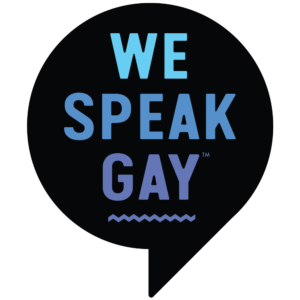 We Speak Gay is a community, brand and certification of LGBTQ inclusive companies in Finland. The community includes companies that are actively creating safe environments for sexual and gender minorities and also promoting diversity in their communication, both verbally and visually.
The Community is expanding all the time.
Diversity
Diversity means understanding that each individual is unique and recognizing our individual differences. It is also the exploration of these differences in a safe, positive and nurturing environment, moving beyond simple tolerance to embracing and celebrating the rich dimensions of diversity contained within each individual
Inclusion
Human beings possess a fundamental need for inclusion and belonging. 
Many organizations and societies are better about creating diversity, many have not yet figured out how to make the environment inclusive—that is, create an atmosphere in which all people feel valued and respected and have access to the same opportunities. 
This is the fundamental goal of We speak gay community, to create more environments with the atmosphere of inclusivity and respect for diversity.
We Speak Gay sertifikaatti
We Speak Gay on ainoa monimuotoisuuteen kannustava ja organisaation monimuotoisuudesta kertova sertifikaatti Suomessa. Tälle on tarvetta, koska vain yksi kymmenestä seksuaali- ja sukupuolivähemmistön edustaja kokee voivansa olla työyhteisössä kokonainen oma itsensä.
We Speak Gay on avoimemman yrityskulttuurin kehitykseen suunniteltu valmennusohjelma. WSG:n avulla yrityksen johto ja henkilöstö oppii toimimaan paremmin tämän päivän työympäristössä. Tuloksena työhyvinvoinnin, vuorovaikutuksen ja uusien ideoiden määrän kasvu, kun jokainen työntekijä kokee osallisuutta ja pystyy antamaan parhaansa päivittäisessä työssään.
Lue lisää We Speak Gay sertifikaatista ja valmennuksesta
täällä.